<! ------------------- INDIVIDUAL LOCO SHEETS -------------------------> &nbsp

<! -------------------- RX LOCO DETAILS ------------------------------->


RX Class Steam Locomotives
Rx207 (superheated) "Dean Harvey"
Rx 224 (Saturated)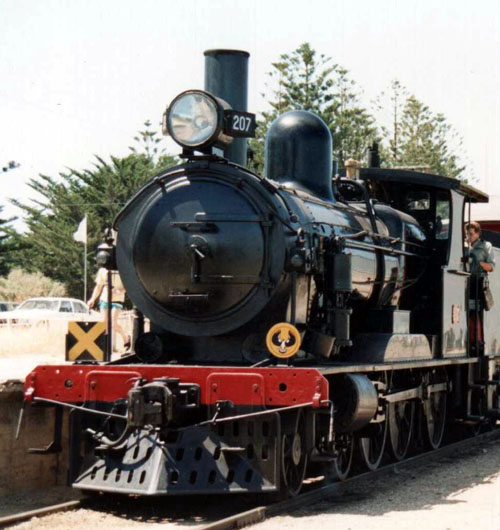 Gauge 5ft 3ins
Tractive effort at 85% B.P. 21,240 lbs
Boiler Pressure 175 psi
Driving wheel diameter 4ft 6ins
Weight 88 ton 12 cwt
Length 57ft 11.75ins
Tender capacity Coal: 7 ton 16 cwt., Water 3750 galls
Cylinders 18ins x 24ins stroke
Max axle load 11 ton 8 cwt


Rx207 waits at Goolwa station




Rx 207 was built by the North British Locomotive Co. and entered traffic on 5 December, 1913, whilst Rx 224 was built by Walkers Ltd. Maryborough Queensland and entered service on 27 April, 1915. Rx 207 was superheated in September, 1926. Superheating means that the steam from the boiler passes through a number of tubes or elements placed inside the boiler flues to further raise the steam temperature and dry it out making the engine more efficient. All modern steam engines were superheated.

Some of the Rx class were initially built as R class and later converted to Rx class by fitting an extension to the smoke box and increasing boiler pressure. A total of 30 R and 54 Rx class engines (84 altogether) were built for the SAR. Prior to 1926 they were the most powerful engine on the broad gauge lines of the SAR. Up to three Rx class were used to haul the Overland over the Mt.Lofty Ranges - 2 pulling and 1 pushing. In 1926 the much larger 500 class engines took over with one engine doing the work of 2 or 3 Rx class. The Rx class then became used for secondary duties on branch lines and as shunt engines at most broad gauge depots in the state. The Rx class were permitted on every broad gauge line in the state and even in 1965 were still working trains to Peebinga as the 830 class diesels were too heavy for that line.

An Rx class engine became the last steam engine on the broad gauge to be rostered for regular use on the SAR when an Rx class was rostered for shunt duties at Tailem Bend.

Prior to the introduction of the Red Hen railcars, Rx class engines were extensively used on passenger trains in the metropolitan area, mainly on the North and South lines. Superheated engines were usually rostered for hills line work and Rx 207 was for many years a Bridgewater engine. Double heading of steam locos on the broad gauge came to an end with the introduction of the large power steam locos in 1926, however the Society has on occasions teamed up 207 and 224 to run a double header passenger train.

Rx class engines are limited to a maximum speed of 45 mph, however it was not uncommon for them to be rostered to work 60 mph trains and maintain the schedule. An Rx class is limited to 145 tons from Mt Barker to Victor Harbor, whilst on the "Cockle Train" the load limit is 200 tons.

Rx207 took up active SteamRanger service in December 2000 and was named "Dean Harvey" in recognition of the commitment of Dean at SteamRanger Director through the 1970s and 80s, leading to the retention of the Victor Harbor line for tourist railway services.

Unfortunately, it needed to be withdrawn from service in 2007 to have major mechanical restoration work undertaken by SteamRanger staff, volunteers and contractors , including overseas purchase and replacement of worn tyres.

It returned to service in March 2011, but was again withdrawn in early 2013 when the need for further significant maintenance work was identified, particularly in regard to the firebox which eventually required the renewal of a significant proportion of the lower firebox sections. Additionally the axlebox bearings of the six driving wheels needed to be completely renewed by casting and machining new components. Most of this above work was carried out in SteamRanger's workshops by employees Shaun Cassidy and Oliver Lukins with tremendous support from a number of busy volunteers.

Finally, the loco was again returned to active service in November 2015 in time to celebrate the loco's centenary and is now again powering Cockle Trains and other lighter trains on a regular basis




Rx224 is actively undergoing major maintenance at Mt Barker Depot following a serious mechanical failure several years ago and could well return to active service in the near future.



<! -------------------------- F LOCO DETAILS --------------------------------------->




F Class Steam Locomotive - F251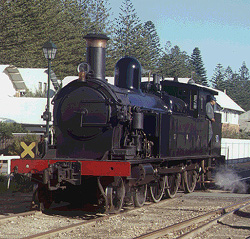 Gauge 5ft 3ins
Tractive effort at 85% B.P. 18,335 lbs
Boiler Pressure: 185 psi
Driving wheel dam: 5ft 3ins
Weight: 59 ton
Length: 40ft 7.25ins
Tender Capacity Coal: 2 ton 5 cwt., Water: 1160 galls
Cylinders: 17.5ins x 24ins stoke,
Max axle load 12 ton 6 cwt.
F251 waits on the passing road at Victor Harbor
ready to head a Cockle Trtain to Goolwa
A total of 44 F class engines were built for the SAR. They were primarily used for working the suburban lines to Semaphore, Outer Harbor, Henley Beach, Belair and Marino prior to the introduction of the Red Hen Railcars in 1955-56. On occasions an F class was used to Hamley Bridge and when the Port Pirie line was opened only as far as Long Plains they also worked services on that line. In later days the F class were used as shunt engines in both Adelaide yard and lslington workshops, these later duties being taken over by the 350 and later 500 class diesel shunt locos.
These locos were capable of a fine turn of speed especially when rostered to work the "Alberton Flyer" each night where they operated express from Adelaide to Alberton attaining a speed of 60 mph.
F 251 was built by Perry Engineering and entered traffic on 7 June 1922. After a long working life it was preserved at the Elizabeth West shopping centre in 1963, then transferred to SteamRanger Dry Creek on 2 September 1981. It was restored to operating condition by SteamRanger and re-entered service in July 1995, initially working services to Belair, Gawler and Noarlunga Centre from Adelaide before being transferred to Goolwa for the commencement of the 1995 Cockle Train summer service.
The loco had a busy couple of years down south whilst both Rx207 and Rx224 were being refurbished and the larger 621 and 520 were facing major mechanical problems. However it had a limited capability for hauling well patronised trains and when it became obvious that significant mechanical upgrading would be required and other locos became available it was withdrawn from service in the late 1990s and placed in storage at the ARHS Mt Barker Depot. It is unlikely to be running in the near future.


Updated November 2011






<! -------------------------- 621 LOCO DETAILS --------------------------------------->
620 Class Steam Locomotive - 621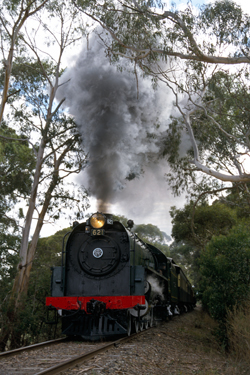 Gauge 5ft 3ins
Tractive effort at 85% B.P. 25000 lbs,
Boiler pressure 200 psi
Driving wheels diam 5ft 6ins
Weight 140 ton 15 cwt.
Length 69ft 7.75ins
Tender capacity Coal: 9 ton, Water 5200 galls
Cylinders 18.5ins diam x 28ins stroke,
Maximum axle load 15 ton 18 cwt.
621 steaming hard crests Philcox Hill with a Southern Encounter consist
Photo: © Roger Currie
The broad gauge "East West" connection between Adelaide and Port Pine was completed in 1937, connecting with the Commonwealth Railways standard gauge line to Port Augusta and Kalgoolie, by-passing the long route through Riverton, Peterborough and Quorn. The S.A.R. wanted a fast passenger locomotive to haul the Express and a design for a Pacific type (4-6-2 wheel arrangement) by Mr.P.J.Shea Chief Mechanical Engineer of S.A.R. was selected. A total of 10 engines were built, the first 620 being completed in 1936, the centenary year of the state. 620, and a series of "centenary" cars were used to run the Centenary Limited around many of the broad gauge lines of the State. Engine 621 was also used to haul the train.


One of the unique features of this class of engine is the use of Bakers Valve Gear in lieu of the more common Walachaerts valve gear. The second engine, 621, was issued to traffic on 7 Sept.1936 and the last, 629, on 22 March 1938. These engines could run over the same tracks as the 520 class and were used mainly for passenger work. They ran the Port Pine line at an average speed of 50 mph. in 1943 the more powerful 520 class took over the Port Pirie line working and the 620's became the work horses on the Willunga, Bridgewater and Tailem Bend passenger trains. They were also used to haul Limited Mixed trains to Pinnaroo and Renmark., (A limited mixed is a passenger train with goods loading attached, the maximum load of the train being less than that of a goods load and shunting enroute being restricted to the major locations.)
The onset of Blue Bird railcars in the 1950s saw the demise of the 620s and by 1969 all but 621 and 624 (in the Port Dock Museum) had been scrapped. It is interesting to note that a spate of railcar failures in 1954-5 saw the 620's back on the Port Pine line working to fill the shortage of railcars.
621 was condemned and stored on 21 August, 1969 after running 672,814 miles. The Society raised $10,000 in 1970 to enable the lslington Workshops to return the engine to operational condition. The engine was named "Duke of Edinburgh" by the Governor of S.A. on 6 April, 1971 and returned to service in Easter of that year.
It ran tourist trains for the Society to a wide range of locations throughout SA during the 1970s until 1978 when boiler problems rendered it unserviceable and it was stored at Dry Creek Depot with minimal work being carried out until the coming of the VHTR in 1986.
Following a significant restoration by ARHS volunteers during the mid 1980s it returned to Service to assist 520 on the first train back to Victor Harbor on 18 October 1986. It later headed a Vice-regal train to Victor and a special excursion to Victoria in May 1994 just before the interstate line was converted to standard gauge.
In 1994 the loco was withdrawn from service due to an irreparably cracked header. The 600kg cast iron steam header is one of the locomotive's larger steam handling components. This unfortunately meant that the only way to get the loco back on the rails this time was to recast the header from scratch! The then estimated cost of $30,000 to do this was well beyond SteamRanger's resources so the loco languished at the back of SteamRanger's Mt Barker depot from 1994 to 2000 until SteamRanger volunteer Mark Batten secured valuable sponsorship which allowed for a new header to be manufactured. Mitsubishi Motors at Lonsdale agreed to undertake the fabrication of the very complex pattern (shown at the right)which was used to form a sand mould for the pouring a new casting.The pattern was cunningly made from cheap and easy to shape polystyrene material. The numerous parts of the pattern were then used by the McKechnie Iron Foundry to build the sand mould using core boxes and steel rods to form the many intricate internal passages.
621 then returned to regular ARHS service in 2000, hauling the majority of train up and over the ranges from Mt Barker to Strathalbyn and Victor Harbor and its share of busy holiday Cockle Trains from Goolwa.
The loco was most recently withdrawn from regular service in late 2008 when it was found that the boiler again needed significant repairs. Boiler tubes were sourced from Germany and after machining in the UK the tubes were shipped to Australia and refitted to the loco in early 2011. Other important repairs were made to the firebox, tender and motion; the overall cost being around $150,000 funded to a significant extent by a donation from an anonymous supporter.
The loco returned to service between Mt Barker, Strathalbyn and Victor Harbor in August 2011
This engine is permitted a load of 200 ton between Mt Barker and Victor Harbor.


Updated November 2011






<! -------------------------- 520 LOCO DETAILS --------------------------------------->
520 Class Steam Locomotive - 520
"Sir Malcolm Barclay Harvey"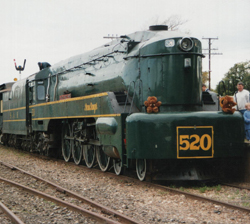 Gauge 5ft 3 ins
Tractive effort at 85% BP 32600 lbs,
Boiler Pressure: 215 PSI.
Driving Wheel diam 5ft 6ins
Weight 200 ton 13 cwt
Length 87ft 3 ins
Tender cap Coal: 8 tons, Water 9100 galls
Cylinders 20.5ins diam x 28ins stroke
Max axle load 15 ton 16 cwt
520 at Strathalbyn on a special picnic train
The 520 class was designed during World War II by F.H.Harrison, who was the Chief Mechanical Engineer of the South Australian Railways from 1939 to 1952. New engines were urgently required because of the large increase in traffic caused by the war. As these engines were designed to operate on nearly all lines, from the heavy mainlines to the lighter branches the axle load had to be limited to 16 ton. Unique features of these engines is their streamlined appearance. fully enclosed cab and the use of roller bearings on all axles. The first engine, 520, entered service with the S.A.R. on 10 November, 1943 on the Port Pirie line achieving a maximum speed of 78 mph between Red Hill and Port Pirie. 520 was named Sir Malcolm Barcley.Harvey after the Governor of S.A. at the time. A total of 12 engines were built between 1943 and 1947, the later nine having a more streamlined front end than their earlier sisters. They were built as fully coal burners, but later converted to burn a mixture of coal and oil. 520 has since been converted back to a full coal burner.
The 520s were a very successful engine, so much so that they were the last of the "big" steam engines to remain in service when dieselisation came. They were allowed to operate over all the broad gauge lines in the State with the exception of the Riverton-Spalding. Bumbumga-Lochiel, Sandergrove-Milang, Monarto South-Sedan, Karoonda-Waikerie, Karoonda-Peebinga, Wanbi-Yinkannie, Renmark-Barmera and Alawoona-Loxton. All of the lines listed above were laid with either 50 or 40 lb rails. The most common use of these engines was on the Port Pine line passenger trains. They also saw service on trains to Terowie, Tailem Bend and Pinnaroo and after the widening of the gauge from Wolseley to the South East ran to Mount Gambier. The loco was permitted a maximum passenger load of 270 tons from Adelaide to Victor Harbor, although in latter years an arbitrary limit of 240 tons has been placed on it.
The first 520 to be condemned was in 1961. 520 was condemned on 21 August 1969 and re-instated on 1 May 1970 and stored at the Mile End Railway Museum until Sept.70. In 1971-72 $20,000 was raised to allow the engine to be returned to running service at the Islington Workshops and on 16 May 1972 it worked its "first trip" to Sandy Creek. Since that time considerable expense has been incurred on other major work all of which is now carried out by SteamRanger at the Dry Creek Depot.
SteamRanger is now responsible for the maintenance of this and all other engines and rollingstock under its control. In 1975, 520 was repainted from its black and silver colour scheme to the present green and gold (its initial colour scheme). It's first trip in the new colour scheme was to Nuriootpa on Saturday 3rd May 75.
520's tender was routinely drained and inspected in December 1998 after the normal running season. This confirmed previous evidence of corrosion and wastage of the underframe, where the tender had been extended down to increase water carrying capacity. Calculations based on the static and dynamic loads on the underframe indicated that the tender frame had reached its design life, having been subjected to over 55 years of ongoing corrosion and to rectify this will require substantial strengthening and long term anti-corrosion coating.
Mechanically, the loco was in good condition, but the boiler and smokebox also needed attention. In 1994 the loco was converted back to a coal fired boiler by superficially covering over the oil burning apertures in the boiler backplate. This approach is not now acceptable to our boiler inspectors and initial work involving stripping fittings in the cab was commenced prior to discovering the tender corrosion problems, but has not been further progressed. A full rebuild is required to address wasting of material in the smokebox. This will require reproducing a complicated smokebox profile.


The unfortunate outcome of these inspections was that 520 would require over $300,000 of work to put it back in reliable condition, which could not be justified at the time due to the very minimal use the loco would have now that the need for a high power loco to bring trains up the ranges from Adelaide had vanished due to standardisation of the main interstate track and SteamRanger was now only running from Mt Barker to the south coast. The loco was therefore placed in long term storage at Mt Barker whilst our limited resources were dedicated to maintaining our operationally more flexible 621 and Rx class locos.

Thankfully, in 2014, former ARHS tours director Mr Dean Harvey, made a considerable donation toward the required restoration work, and SteamRanger began looking for private and corporate sponsorship/donations to see this project through to completion.

This project is now underway, with 520's tender being sent for major rebuild through a private contractor on Friday 17th October 2014.


Updated November 2015