&nbsp <! -------------------------- 350 LOCO DETAILS -------------------------->
350 Class Diesel Locomotive - "350"
Wheel Type Bo Bo,
Body Type Hood
Builder S.A. Railways lslington
Engine English Electric,
Horsepower 350 HP (at main generator)
Axle Load 12 ton 7.5 cwt,
Weight 49 ton 10cwt.
Length 37ft 10 ins
"350" at Mt Barker Depot

Only two 350 class engines were built at the lslington Railway Workshops with 350 entering service on 7 June, 1949 and 351 on 21 June, 1949. They were the first diesels to be built by a rail system in Australia. For a period of time during the coal strike they were used on passenger trains in the suburban area, however they have a low maximum speed and at the conclusion of the strike were put to use on shunting duties.
They worked for a period at Mile End. 351 was stationed at Mt. Gambier for some time. Eventually both engines became the Adelaide yard shunters and then finally the workshop shunters at lslington. Whilst these engines have been mainly limited to yard shunting duties during their careers they were also used by SteamRanger to work the odd mainline train to Gawler and Penfield.
Engine 351 was sold by AN to a preservation group at Moonta, however that venture never came to fruition and the engine was purchased by the A.R.H.S. for $2000 and returned to Dry Creek where it was restored to operational condition. With the advent of the VHTR and holiday Cockle Train running it was based at Goolwa Depot, however due to mechanical problems has now been placed on permanent loan to Port Dock Museum.
Engine 350 was purchased by SteamRanger from A.N. and is now used as a depot shunt loco. It has a limited hauling capacity and on the Victor Harbor - Strathalbyn section is limited to 150 ton. It was used to haul passenger cars on a little used siding at Penfield during the filming of "Robbery Under Arms".




<! -------------------------- 507 LOCO DETAILS --------------------------------------->
500 Class Diesel Locomotive - "507"
Wheel Type Bo Bo
Body Type Hood
Builder S.A. Railways Islington
Engine English Electric
Horsepower 500 HP (at main generator)
Axle Load 14 ton 4 cwt,
Weight 56 ton 16cwt.
Length 41ft 4ins
507 at Goolwa station

The 500 class diesel locos were built by the SAR at lslington primarily to replace the Rx class engines on shunt duties at the major broad gauge yards in the state. The first 500, engine 500 entered traffic in 1964 whilst engine 507 was introduced to traffic on 6 April 1965.
With the standardisation of the Broken Hill - Port Pine line additional 500 class engines were built to the standard gauge for use at Port Pine, Gladstone and Peterborough.
With the advent of longer and heavier trains they have become unable to perform duties in the major marshalling yards with their duties being taken over by the more powerful 830 classes locos.
Engine 507 was purchased from AN by SteamRanger in 1991 and is used both as a depot shunter at Goolwa as well as working the Cockle Train when if is not economically viable to do so with steam.




<! -------------------------- 900 LOCO DETAILS ---------------------------------------> <! -------------------------- 930 LOCO DETAILS --------------------------------------->
930 Class Diesel Locomotive - "958"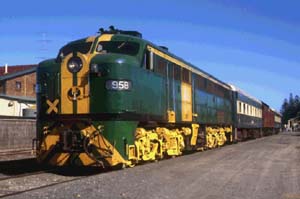 Wheel type Co-Co
Body Type Cab
Builder A.E.Goodwin Sydney
Engine ALCO
Horsepower:
Axle Load 17 ton 4 cwt,
Weight 105 ton 18 cwt,
Length 58ft 10 ins
Number in class 37
958 leading the Southern Encounter
into Victor Harbor station
The 930 class diesels were built to replace the medium weight steam locos and as such had an axle load which permitted them to operate on the 60 lb rails of the "western system" to Wallaroo and Gladstone. In service they handled the main south line trains and many Port Pirie and Peterborough line services in preference to the older and heavier 900 class locos.
With the advent of standardisation of the Crystal Brook to Adelaide line some were transferred to the standard gauge and as such worked to Broken Hill and Port Augusta.
For many years these engines also worked the Overland express from Adelaide to Serviceton and with the advent of through working of locos to Victoria some were also to be seen in that State, even working local passenger services to Geelong whilst waiting to return back to Adelaide.
958 was built as a broad gauge loco and entered service on 5 May 1955. It was converted to standard gauge but was re-converted to broad gauge when purchased by SteamRanger from AN.
This engine has served as "back up to the big powered steam engines in addition to working services during fire ban periods. Engine 958 also worked all the transfer trains from Dry Creek when SteamRanger has to move to Mt.Barker.




<! -------------------------- REDHEN LOCO DETAILS --------------------------------------->
Red Hen Diesel Railcars - "412", "428", "334" & "824"
Cars 424, 405, 364, 830 under restoration
Power Cars



RedHen power car 428
with consist in Mt Barker Junction Station.
Photo: Peter Michalak

Double ended - 400 class

Gauge: 5ft 3ins
Length overall: 65ft 8ins
Width over body: 10ft
Height above rail level: 14ft
Traction Engines (2 per car): 219HP
Tare Weight: 41ton 17cwt
Transmission: Twin disk hydraulic torque converter
Seating capacity: 80;
Maximum speed: 55mph

Single ended - 300 class

Gauge: 5ft 3ins
Length overall: 65ft 8ins
Width over body: 10ft
Height above rail level: 14ft
Traction Engines (2 per car): 219 & 229HP
Tare Weight: 40 - 42ton
Transmission: Twin disk hydraulic torque converter
Seating capacity: 89
Maximum speed: 55mph



Trailer Car - 824

Length overall: 59ft 4½ins
Tare Weight: 27tons
Seating Capacity: 56



SteamRanger has purchased and restored examples of the unique South Australian railcar fleet that provided the core of the suburban passenger service throughout the 1960s, 70s and 80s Running of these cars complements the steam hauled trains operated by the Society.
The first railcars used the South Australian Railways were introduced in 1924 when Commissioner Webb introduced the class 55 and 75 "Brill" cars to take over selected suburban services from steam loco hauled trains. Although using railcars greatly simplified the shunting required at the dead-end Adelaide station, the Brills were not capable of handling heavy peak loads and many were mainly used on country services.
In 1952 an enquiry recommended that the suburban services be upgraded to operate with electrified cars at a cost of £4.5M, but this was not accepted by the Government which chose to build diesel powered railcars with conversion of existing non powered passenger cars to form matching intermediate trailers. The cars were to be constructed at the SAR workshops at Islington with the engines and transmissions purchased under contract.
The new cars worked on all suburban services operated by the SAR and were transferred to the State Transport Authority on the demise of the SAR on 1 March 1978.
All the cars originally had silver roofs, which were later painted black, but the final paint scheme was an overall "Regal Red" color, leading to their common name of "Red Hens", contrasting with the later country railcars which were given the name "Blue Birds"
In service with SteamRanger, the cars are used to operate the off-peak Goolwa to Victor Harbor "Cockle Train" service outside the busy school holiday periods and when firebans prevent use of steam. They also operate scheduled services from Mount Barker to Strathalbyn and to Mount Barker Junction. They are a popular car for groups to charter, since the minimum viable number of passengers is low and they can run to locations without loco run around sidings. One, two or three car sets can be assembled.
Use of these cars allows us to operate services during the winter when steam services from Mt Barker are no longer viable as well as running to varied destination on the line all year round and providing further support for our off peak Cockle Train services.
300 class powercars - The first car, numbered 300, entered service in October 1955. The initial batch of cars only had a driving station at one end and were "'matched up" with a centre trailer car to become "car-trailer-car" units capable of being coupled into six car sets (on some occasions up to a nine car unit). Car 334, one of the ex Limestone Coast cars (see below) was selected as the vehicle that could be put into SHR service within the shortest amount of time - mainly it has the least amount of mechanical issues to attend to. The car was delivered by truck to Strathalbyn in mid August 2012 then moved to our depot at Mt Barker where it was extensivel reconditioned before being returned to service in December 2014 on the summer Cockle Trains .
400 class powercar - To cater for the lightly patronised off peak services a "double ended' car was designed and entered service as car 400 in 1959. SteamRanger's car 412 entered service on 5th December 1960 It was donated to SteamRanger in 1994 and worked the last passenger train from Adelaide over the broad gauge to Victor Harbor in March 1995. Car 428 was built in 1968 as part of a later batch which saw the final demise of the Brills. It was purchased by a number of volunteers in 1997 and donated to SteamRanger. It has subsequently been refurbished. Car 424 one of the Limestone Coast cars (see below) is currently being restored at Mt Barker and will be the next car to return to service
800 class trailer - SteamRanger's trailer car 824 began life as steam era end-loading baggage car 329 in December 1912 and was converted to a Red Hen trailer in 1961. It is at present being used with one or both of our 400 class powercars.
Cars acquired from Limestone Coast

In order to increase the number of RedHen cars available SteamRanger purchased cars 405, 424, 334 and 820 from the now closed Limestone Coast Railway
Unfortunately the cars suffered from significant vandalism whilst stored at Mt Gambier. Railcars had all windows smashed out. Whilst this is frustrating and will cause delays, it is repairable but does come at some cost. It will therefore be some time before cars 405 and 424 are returned to active SHR service.
Trailer car 820 was virtually totally destroyed in a vandalism fire attack on the Mt Gambier Roundhouse on the 19th October 2014 and is now effectively written off.




<! -------------------------- BRILL DETAILS --------------------------------------->
75 Class "Brill" Diesel Railcar "60"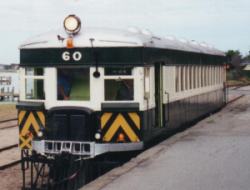 Gauge: 5ft 3ins
Length overall: 56ft 11ins
Diesel Engine: GardNer 8LW, 150HP
Tare Weight: 25 tons
Wheels: 2ft9ins @ 7ft wheelbase
Seating capacity: 67 passengers
Cost as built: 4520pounds (1928 prices)
Est cost of rebuilding: $50,000
Volunteer effort: over 6000hours
Restored railcar 60 (ex trailer 207) at Goolwa station

In 1926, following arrival of Commissioner W.A. Webb from the US, the SAR introduced railcars modelled on the US designed "Brill" cars for use on less busy country and some suburban lines. They were known locally as "Barwell Bulls" after the then Premier (Sir Henry Barwell) and the strident air horn note. Car 60 was rebuilt by SteamRanger volunteers from condemned trailer car 207 by installing a diesel power unit in what was originally the baggage compartment.
The first car for the SAR was built in J.G. Brill's works in the US and entered service in South Australia in August 1926. All the remaining cars were built at the SAR's Islington workshops. By 1930 some 50 broad gauge cars and trailers, and 12 narrow gauge cars and trailers had been supplied. The introduction of these cars resulted in a significant reduction in the use of steam locomotives on country passenger services in accordance with Webb's moves for increased productivity. The cars were classified as "75 class" railcars. A smaller car termed the "55 class" had been built earlier.
Originally overall brown, the paint scheme became green and cream by 1936, with the distinctive illuminated "Day-Glo" safety stripes below the end windows fitted to many cars from 1957. The original motive power was a "Winton" petrol engine, with "GardNer" and "Cummins" diesels being retrofitted to various cars from 1937 onwards. At the same time, remote control facilities were introduced to allow four-car sets (2 trailers) to be coupled together. A major improvement in passenger comfort on longer journeys came with the fitting of new back-to-back compartment style seating to some cars between 1938 and 1940. This was colloquially known as "milk bar" seating
The first retirements coincided with the arrival of the modern "Bluebird" railcars on country lines in 1954 and the suburban "Red Hen" cars in 1955 By 1969 the era of the 75 class had effectively come to an end, with only occasional trips run on the Tailem Bend and Victor Harbor lines and a car continuing to provide the local service between Strathalbyn and Milang until that line closed 1970. The last revenue trip was to Victor Harbor in October 1971.
AN converted many of the cars to camp cars in the early 70s. When these became redundant in the late 80s SteamRanger acquired two of the converted trailer cars, 207 and 211. A small group of Goolwa based volunteers coordinated by Phil Neville then commenced the daunting task of recreating a representative power car from trailer 207. A diesel engine was installed in the baggage compartment and the bodywork, windows, and seating replaced or extensively refurbished. The body frame was strengthened and electrical and control systems upgraded.
After thousands of hours of voluntary effort the car emerged in early 2001 as Car 60 and provides an interesting historic attraction on selected services between Strathalbyn, Goolwa and Victor Harbor.



"Brill" Diesel Railcar "43"
In addition to Brill Car 60 the railway has been fortunate in having received in 2008 a donation of a genuine Brill power car - as opposed to Car 60 (above) which SHR had converted from a trailer car.
No. 43 was one of the original order for Islington-built Brill Railcars and entered service on 26th March 1928. It retained its maximum-capacity seating, and during its life was converted to multiple-unit operation, as one of the so-called "Glamour Cars". These cars were distinctive with their radiators mounted on the roof. The car worked the last passenger service out of Moonta on 26th April 1969 and was condemned just two months later. It was eventually converted to Permanent Way Sleeper, PWS 28 in April 1973. Despite this conversion it retained the power transmission bogie, and all of the strength of a power car's frame. In 1988 PWS 28 was the last of the former Brill power cars to be disposed of by AN.
The car was purchased by long-time ARHS member John Wilson who, with a small number of Clare Valley enthusiasts, was hoping to retain the Clare branch line as a tourist railway. John installed Car 43 on a short length of track at his vineyard, with the back-up plan that if the Clare Valley tourist railway did not eventuate, he would use the car as a vineyard restaurant. At the time a roof was built over the car as shown in the adjacent photo and over the years some initial restoration work has been undertaken. In 1989, however, following an earlier bush fire the rails of the Clare branch line were lifted so ending the dream of a tourist railway there.
SHR Mechanical Services team members examined the car which appears to be in relatively good condition, complete with running gear such as brakes, bogies and good quality tyres. It is believed the car had a transmission overhaul not long before being taken out of service. Following more formal discussions with Dr Wilson an arrangement has been negotiated in that the Wilson Vineyard has donated the car to the SHR and relocated it to Goolwa Depot without cost to the Society.

On February 27th 2016 an inaugural meeting of a Brill 43 Restoration Team was held at the Goolwa depot. Those present were Rowena Lewis, Richard Parkinson, Mark Batten, Peter Schneider, Ray Green, Alan Potter, Chris Thompson and Phil Neville. The meeting was convened by Rowena who, along with others, was concerned that the Brill 43 restoration had stalled and was keen to get things going again but this time on a more formal basis. She had called together all those who had an interest in the restoration. She had applied for, and was granted, a $1,400 grant from the State Government Office for Volunteers for the purchase of personal protective equipment for use by those engaged in the restoration. The meeting was called to discuss the way forward. The Manager, Mechanical Services, Craig Dunstan, has produced a document outlining the requirements from his point of view, both practical and financial.

The meeting agreed that a project manager was required to co-ordinate all work on the restoration. Given Phil Neville's extensive experience with RC60's restoration and on-going maintenance, it was appropriate that he be appointed Project Manager. It was agreed that additional help would be seconded as required, including the possible employment of "Work-for-the-Dole" people. Work would commence once the Brill was returned to the shed and it was suggested that work be carried out on a Friday and/or Saturday once a month. Depot workers with welding skills, for example, will be asked to assist.


Further fund raising and volunteer effort will be necessary to restore it to service later in this decade.