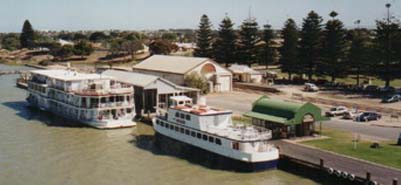 Goolwa Wharf Precinct 2001
The First Goolwa Station
SteamRanger's Goolwa station is located in the historic Wharf precinct, alongside the River Murray. When originally built, however, the new Strathalbyn to Middleton line initially bypassed the Goolwa wharf area, skirting the northern edge of the town, and trains reached the wharf by shunting down a short branch at right angles to the river. A platform was built opposite the Corio Hotel in what is now the Soldiers Memorial Gardens.


Click on a mouse to see some images of yesterday

The photo shows the view up Cadell St, Goolwa's main street, with the station and line to Middleton or Strathalbyn on the left and the line to the wharf on the right.

An Adelaide bound train departs the busy wharf yard about 1920

An early horsedrawn passenger car leaving Goolwa on the original line. The post office is in the background
The Wharf Station
In January 1915 a loop line was constructed as shown in the diagrams below, and the line through the centre of Goolwa was closed. Today's track layout remains much as it was when the loop line was built, although lines on the wharf itself have been removed.
In the busy summer season class "55" rail motors were used to operate the "Cockle Train" local service between Goolwa and Victor Harbor. A similar railmotor is presently being restored by SteamRanger at its depot at Goolwa North and should return to the line in 2001. In 1926 a small triangle was laid at the northern end of the platform to allow turning of the railmotors, but this was pulled up in 1937. Today, SteamRanger turns locos and railcars on a triangle at its Goolwa North depot.
Until the construction of the high level Hindmarsh Island Bridge commenced there were manually operated level crossing gates at the northern end of the yard which were opened by the station staff or the train guard for every arriving and departing train Goolwa was managed by a Stationmaster until November 1969 and a porter was posted there until regular services were withdrawn.
The building at the Pt Elliot end of the platform retains much of its mid 1900s character and has been refurbished by SteamRanger to accommodate a ticket office, refreshment shop and Stationmaster's office. The adjacent cream shed has been converted to a platform shelter. The more modern building at the Strathalbyn end was built in 1995 to house the Goolwa Arts and Crafts Society shop.


The Goods Shed
The galvanised iron clad goods shed has now been taken over as a commercial outlet and a cafe created on the wharf deck.