Easter and April School Holidays
busy
It was "all hands on deck" in April with four days of Cockle Train running over Easter, followed by two weeks of the school holidays.

Heritage diesel "DE507" operated most of the services, with "Brill" railcar 60 running a late afternoon return trip on the Saturday, Sunday and Monday at Easter. Passenger numbers at Easter were very encouraging, up 25% on last year with up to 1000 passenger journeys a day due in part to Easter coinciding with school holidays and the excellent south coast weather.

The Easter Sunday trains featured a visit from the "Easter Bunny" who handed out special gifts for the children and was a popular photo subject!


Providing loco crews, guards and stationmasters, train attendants and station staff was real challange for our roster officers and we thank all volunteers that made themselves available. Particularly notable was the contribution of Goolwa residents Ray and Val Green who made themselves available for fifteen of the seventeen running days. Val is an experienced ticket officer and shop worker and Ray, as well as working as a guard and SM, is a key member of the track maintenance team throughout the year.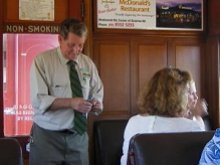 Holiday Cockle Trains continued until Sunday 26th April with DE507 and the Brill operating a special "StrathLink" trip to Strathalbyn on Anzac Day,Saturday the 25th. Overall, passenger numbers for Easter and the School Holidays were about the same as in 2008.


Special trains run for the Goolwa Wooden Boat Festival
On the long weekend in early March, SteamRanger ran a busy schedule of services in conjunction with the Wooden Boat Festival at Goolwa using both railcar 60 and DE507 with our vintage rollingstock. Sunday 10th was the busiest day with four return trains running between Goolwa and Victor from 10.00am in the morning until 10.30PM following a fireworks display.

Mechanical Services volunteer Kevin Marzahn was there and sent us the following photos capturing the event.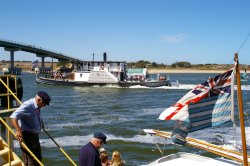 SECOND ATHRA "Excellence Award" won by an SHR volunteer

Last year volunteer Bev Sawyer won the first Association of Tourist & Heritage Rail award for "excellence"

This year we have done it again! Goolwa Depot Manager, trackworker and loco engineman , Philip Neville was announced at the September ARHS meeting as being the well deserved 2008 recipient.

Congratulations Phil!

SteamRanger's nomination of Phil occupied some two A4 pages listing his contributions, commencing in 1979 when we were based at Dry Creek and Phil was working full time as farmer. He moved to Goolwa in 1988 and began his volunteer work in earnest, ramping it up further on his retirement in 2002. Subsequent major milestones were;
A member of ARHS Council from 1988 to 2003
Coordination of volunteers. resources and operations at Goolwa Depot over nearly 2 decades.
Acquisition of a Brill Railcar Trailer in 1990 and beginning coordinating a ten year task to install an engine in the freight compartment to create Railcar 60.
Qualification as a track machine operator and loco engineman
Appointment as SHR Track Manager from 2001 to 2005 which involved acquisition, modification and restoration of a wide range of track equipment.
Major involvement with our significant track relaying in 2006
And his next major challenge - restoration of recently acquired railcar RC43
Recent Marketing activities have included
Trevor Blight has been composing targetted ads for each Saturday Advertiser's What's On section. As well as focussing on immediately upcoming trips his material has invited potential new volunteers to join us and to combine a CT trip with local special events at Goolwa and Victor. Trevor has also been working on producing ads for local magazines and newspapers on the south coast.


SteamRanger featured in an article in the Victor Times in October when a number of Sudanese children were hosted locally by the Goolwa Holiday Refugee programme. The group had an outing on the Oscar W paddlesteamer, a farm visit, picnics in local parks and complimentary rides on the Cockle Train courtesy of SHR. They certainly looked happy in this picture accompanying the "Times" article.






Santa Special Cockle Trains were programmed for three days just before Christmas. Promotional posters were prepared by the SFRV group and the activity advertiserd in the local paper and on local radio. Most trips were well patronised and Santa wandered through the train distributing candy to the children and enquired as to whether they had been good thru the year and expected prsents under the Xmas tree. Joan Snow captured Santa with a couple of older passengers and with the train crew.





With assistance from Brenton Ragless and Anthony Colquhoun from TV Channel 9 a new 30 second promotional video has been developed and aired. Brenton, who is now the channel's Weather Man has also been able to slip in a few words on SHR from time to time


Infrastructure Services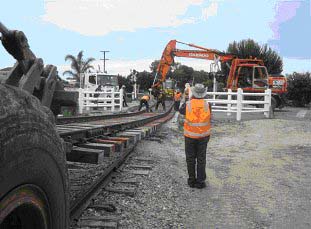 Volunteers and employees working on our infrastructure have been busy over recent months, assisted by contractors and "work for the dole" personnel in appropriate areas.

Both Goolwa and Victor stations are being upgraded on an ongoing basis, including reroofing and repairing / repainting Victor Barracks.

The environmental group and track resleepering teams have been busy along the track and a major relaying of the main road crossing at Goolwa was undertaken as a joint SHR / Transfield project. (Photo opposite)










Record crowds turn up to welcome the "Oscar W" at Goolwa
The October holiday long weekend drew record crowds to Goolwa to celebrate the 100th anniversary of the paddlesteamer "Oscar W', freshly restored and recommissioned by its "Friends". SteamRanger operated a capacity five car "Southern Encounter" train from Mt Barker on the Sunday which in addition carried local dignitories from Strathalbyn to Goolwa to participate in the ceremonies.
A large number of locals and visitors travelled on the Cockle train each day. A special feature was the combined Southern Encounter and Cockle Train around midday on the Sunday which was double headed by 621 and DE507.




Photographer Peter Michalak followed the trains most of the day and was rewarded with a classic shot of the double header against the surf at Chiton Rocks.

Overall, and in spite of the lack of steam due to mechanical difficulties for some six of the fifteen scheduled running days of the holidays,ticket sales were up some 34% from the equivalent period last year, and added nearly $60,000 (gross) to our annual income.





A number of photographers have sent in shots of various trains over this weekend and a selection are included in our photoalbum HERE . Your photos are always welcome!







Summer Cockle Trains well Patronised
Our busy summer period commenced with extra Cockle Trains on the 18th to 21st December, with an ebuliant Santa on board selected movements

From December 27th we began 30 successive days of operation with up to five return movements a day. Diesel loco 507 was rotated with Brill railcar 60 and our RedHen set on a day by day roster, to provide a variation of rolling stock for passengers and match the likely passenger numbers. In the first week rarely used mainline diesel 958 was called in to help as well.
Peter Michalak was there on Sunday 3rd January to record 958 and Brill 60 at work. His photo captures 958 pulling into Pt Elliot station whilst Brill 60 watches from a distance from the safety of the rarely used siding. More of Peter's photos can be seen by clicking on the images a little further down this page.
Running up to five trains a day provided passengers with increased opportunities to stopover at stations and incorporate lunch breaks and visits to local attractions. Particularly popular was an 11.00am railcar movement from Goolwa, returning from Victor at 12.35, and passengers wanting to have a long day at the beach were offered a late train returning to Victor by 5.15pm and Goolwa by 6.10pm.
Bearing in mind the lack of steam, ticket sales were encouraging, with comparative income being about 15% up on 2008 figures. Passenger numbers over the first couple of weeks were well above last year, but fell off significantly in the latter weeks. Very welcome as a contribution to the maintenance costs coming up on 621 and Rx207 and a welcome reward for all the effort provided by roster Cockle Train volunteers who worked long hours, many on successive days.




Minor fire on our Track
The adjacent words from our President highlight the bushfire impact on the Yarra Valley heritage railway at Healesville in Victoria.

On the 18th February SHR had a much less significant fire incident when a fire was started by a crow reportedly zapping itself across power cables on top of the rise adjacent to our track at Wistow, between Mt Barker and Strathalbyn. The fire was featured on the evening TV news. Some 100 Country Fire Services volunteers attended and ther fire was restricted to burning out about 13 acres.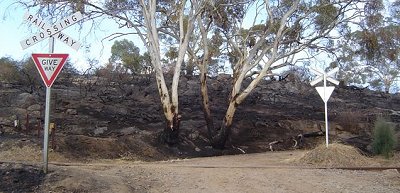 Only a few sleepers (like that pictured below) will need replacement. The CFS had some trouble putting out the burning sleepers which, due to the lack of rain, like everything else are completely dried out. They drowned them with the water hose only to have them re-ignite after they had moved on so they returned and gave them a dose of foam and in a couple of instances this had little effect so it was more water again to do the job.


Diesel Electric Loco 958

DE958 has now emerged from a lengthy period in our Mt Barker workshops to rectify problems with its camshaft and related parts, and will haul its first scheduled service on 7th June.
The following account describes the steps that were needed.
Keen observers will be aware that DE958 has not been running for some time. Abnormal noises from two cylinders were investigated and engine valve clearances measured. All settings appeared to be still within clearances. The injection pump timing was then checked and also found to be within specifications.
With information from commercial operator EDI about possible cam lobe wear it was decided to remove the cylinder crankcase covers to allow Craig Dunstan and John Gordon to make an internal inspection. A broken piece of a bolt appeared to be some sort of grub screw and after consulting the workshop manual the component was identified as an oil gallery plug which should have been located in the end of the cross head (rocker shaft) blanking an oil gallery.
Inspections of cylinder L5 proved the plug had dropped out and as a result of a localized loss of oil pressure, damage to the camshaft, cross head shaft and associated bushes had occurred. The entire LH bank of 6 cylinders was consequently stripped of all rocker gear and push rods, large and heavy injection pumps and cross head mountings and cross heads. Several large cooling system pipes were removed along with one of the compressor heads and barrels and the partial dismantle of the compressor air intercooler.
Special camshaft supports were designed by lan Johnston and manufactured by Ron Williams and Ron Norrell to enable the weight of the camshaft to be taken as its three segments were dismantled internally and removed from the engine The worn section of the camshaft was sent to Perth for repairs.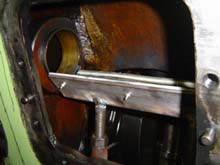 Our photos show two sections of the removed camshaft and one of the special plastic lined support jigs
Latest Update 24th May 2008
Since receiving the correct new engine parts late last week, a good effort from many saw the LHS of the engine put back together by yesterday despite a rubber seal in a 3 inch coolant pipe expiring. Yesterday a modified 900 class electric oil pump was set up to successfully circulate engine oil around the engine prior to cranking it over without damaging the, by now, quite dry bearings etc. We had then planned to start 958 and if all was OK, warm the engine up, load test in the depot then go for a light engine test run. But things came unstuck one after the other from first thing.
A pool of engine oil (from yesterday's pumping) was found on the engine room floor which was traced to a cracked 1/2" pipe on a barrel union connected to the bottom of the oil strainer in a fairly inaccessible spot. A similar union was not available in Mount Barker so the broken part was cut off and a new 1/2' fitting welded on. All was refitted and tested by circulating oil with the 900 pump - so far so good although about 2 hours lost.
A new/replacement coolant seal could not be obtained quickly from the local agents so it was decided to refit the expired seal yesterday using copious quantities of red silastic - not too many loco blokes will be surprised at that. Pumped all 175 gallons of coolant back into the engine this morning only to find a gasket seal on another joint at the bottom of the plumbing tree decided to leak - the repaired seal was as good as gold. So all coolant will need to be dropped again and the reason for the new leak investigated What makes things difficult is that we are working with parts and materials decades old and corroded making good sealing difficult.
Then it was time to pressurise and check the fuel system and in particular the 6 "banjo" fittings connecting the fuel rail to each of the LHS fuel pumps. In an attempt to save dollars, not always wise as we have again found out, the 12 copper seals in these fittings were reused. Quite often you get away with this but unfortunately not today. Even before fuel pressure was established 2 were leaking and by full pressure all 6 had fuel running everywhere. Enquiries around Mount Barker and subsequently everywhere else established the heavy duty seals are not available off the shelf. We could make new ones from scratch but a quicker approach will be to painstakingly refurbish and reanneal the existing seals and ensure the alignment of the fittings is spot on to each other.
After lots of leak fixing today (24th) and extra battery charging, the loco started easily and from the very first exhaust beat sounded much better than previously . The previous missed beats when the engine started and every now and then while warming up have gone. The engine was warmed up for almost an hour, then run at full revs while not going anywhere with nothing unusual (noises etc) showing up. So it was decided to take the loco (by itself) for a run to Bugle Ranges and return and simulate a load for awhile by heavily dragging the brakes on the uphill bits while flat out in notch 8.
This was done in both directions with no sign of any vibrations - so maybe that was linked to the worn cam lobe causing the L5 fuel pump to not work correctly and/or at the right time. Further proof one way or the other will occur when a decent load is put behind the loco with sustained climbing from Strath back to Mt Barker. The signs are certainly good at the moment but let's not get carried away until the loco has been proven over a greater distance with a heavier load.
While we fixed the water leak from last week, another joint weeped to start with but by day's end had come good. As to whether it is permanently OK will be revealed when the engine cools down. At least we are now quite proficient at draining the cooling system and pumping it all back in again. The refurbishment of the old fuel pump copper seals did not do the trick completely - not unexpected. All 6 were weeping at the end of the test run so new seals will have to be sourced or made then fitted.

Lessons Learnt
Looking at the "big picture" a lot of concentrated effort has been put into 958 dealing with a whole host of problems. The whole task has been a fairly steep learning curve for all considering we have never undertaken major engine work like this on any of our diesel locos. It is interesting to note that the SAR/AN undertook such camshaft replacement tasks with the engine out of the loco - something we could obviously not easily do. There were many times the cramped conditions tested our patience both by getting in each others' way and the difficulty in moving and handling some heavy and large bits - for example the longer camshaft segment weighs in close to 100kg.





Happy Birthday Bernie
Some will know that our Boiler Inspector, Bernie Dickinson, has just celebrated his 70th birthday. Bernie has been looking after our pressure vessels, and SteamRanger for that matter, for close to 20 years.
To mark the occasion Bernie was invited to our Mt Barker Depot recently, supposedly to chat about 621's boiler, but actually to be presented with a memento on behalf of us all as shown in this photo of the mounted very clean fusible plug.







Vale Ian Domleo
Long term ARHS member, Councillor, SHR consultant and respected professional engineer Ian Domleo passed away suddenly on 11th August 2008.
Ian learned his skills with British Rail at Derby before immigrating to South Australia in the early 1960ís where he commenced with the South Australian Railways at Peterborough. Later he moved to Adelaide and transferred to the State Transport Authority as Permanent Way Engineer. He left the STA to take up a position with a major railway consulting firm working in Australia and the UK. For the past 10 years, he has been working with ARTC.
Ian had an expert knowledge of track which he freely contributed to the setting up of the SteamRanger Tourist Railway and in his later years used this knowledge to draft many of the track standards currently used by ARTC. Ianís knowledge and quiet manner inspired great confidence in his advice and was often called upon to resolve technical issues. He not only had a technical knowledge of railways but also had a passion for all things related to trains. He traveled extensively to learn and experience all aspects of trains.
Ianís friendly manner, knowledge, passion and involvement gained him many friends in the railway community. He will be greatly missed. (RTSA)



Programming and Marketing Initiatives
Advertising

More prominant advertising of trains from Mt Barker was introduced from Tuesday 9th September. Display ads were placed in the highly read "Confidential" section of the Advertiser and have been well received.

Royal Show Promotion
In conjunction with other heritage railway organisations, including Pichi Richi and National Railway Museum, SteamRanger volunteers manned a Herirage Railway booth at the Royal Show. The well positioned stand, located amongst other travel promoters, featured a continuously running video and large posters of locos and rolling stock with balloons and promotional material being handed out to enquirers. We thank all those that helped arrange and staff the stand, particularly Roger Currie who organised production of the large poster and Ann and Bill Simpson for setting the display up on the first day.

Special Events at Victor and Goolwa
Potential passengers are being encourage to travel on our trains in association with the 50's Rock and Roll Festival at Victor on the 21st September and the Centenary Celebrations for paddlesteamer "Oscar W" at Goolwa over the October long weekend. An official party will travel on the Southern Encounter in association with the latter.

On-Line Ticketing via the Internet
Arrangements are being trialled to accept on-line credit card bookings through a service being coordinated by the SA Tourism Commission and already used by many tourism operators including both PRR and National Railway Museum. SATC significantly subsidises the system operating costs which would otherwise be very expensive if set up by SHR itself. Only selected services will initially be on-line and will be accessed by clicking a simple BOOK HERE logo on our website. Intending passengers are then taken through an ordered sequence of steps to complete the booking. Mail and telephone bookings will still be available as at present.




GREAT NEWS! - Locos DE958 and 621 back on the rails
As an outcome of sustained efforts by our Mechanical Services staff and volunteeers, real progress has been made towards returning both steam loco 621 and diesel 958 to the tracks with every step forward uncovering more work to be done with our limited resources.
Steam Loco 621
This loco had been off the tracks for nearly two years undergoing heavy maintenance at Mt Barker.
The final step in returning the loco to scheduled services was a test run to Sandergrove on Wednesday 13th August. This was a success, wqithout only minor adjustments needed, and the loco then operated the first steam hauled Southern Encounter to Victor Harbor on the following Sunday, 17th August.
It will now operate scheduled Southern Encounter and Highlander movements through to the beginning of the fireban period at the end of November, as well as the October school holiday Cockle Trains.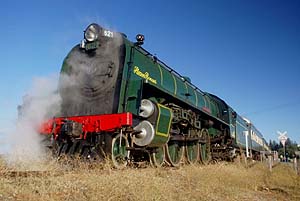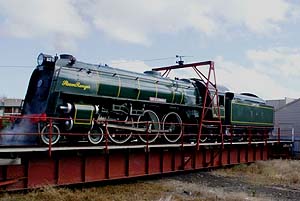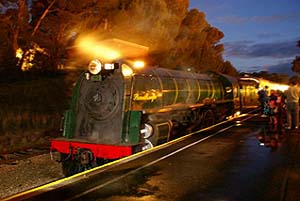 Peter Michalak has his camera at the ready on the 17th August movements and caught the loco shunting in Victor yard, on the Victor turntable and on its return in the darkness to Mt Barker. Thanks Peter for the contributions!









Station Infrastructure
At Victor Harbor Station

Resources negotiated through the "Work for the Dole" scheme have been employed since mid 2007 to substantially upgrade the station building and are nearing an end. A focus for recent work has been virtual rebuilding of toilet facilities and installation of fence pickets at the Granite Island end of the platform.



At Goolwa Station


The Work for the Dole assistance at Goolwa has now come to an end with a number of volunteer tasks continuing to install platform lighting, a train order signal, reroofing of the freight shed, and updating of the staff toilet area. Our photo shows the Pt Elliot end of the platform newly resealed, new seats installed in the waiting shed and brightly painted red flower drums.
The station rehabilitation benefited from a very welcome donation of $1700 from the Lions Club of Goolwa towards fencing and platform asphalting and nett support of around $26,000 over 12 months in terms of labour and materials provided through the Work for the Dole scheme.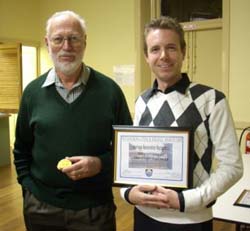 As part of Heritage Week the Alexandrina Council recently presented its Heritage Awards for 2008 at the Strathalbyn Town Hall. SteamRanger received a Heritage Restoration Recognition Award, by Councilís Built Heritage Advisory Committee. The Councillors and staff present were most happy with the finished result. It was certainly pleasing to see that our hard work has been recognised more widely in the local community.
The photo opposite shows Infrastructure Manager Troy Barker receiving an appropriate certificate from Anthony Presgrave on behalf of the Council Heritage Group.


At Mt Barker Station

Completion of the Mt Barker Bus Interchange on land adjacent to our station is now complete and has provided improved weekend parking arrangements for our passengers and has improved the overall appearance of the station area.
The SteamRanger Infrastructure team has now completed installation and commissioning of warning signals at the busy Dutton Road crossing, just south of our depot. A similar signal installation is now being put in place at the Alexandrina Rd crossing. This work has been undertaken under contract to the Department of Transport with the income earned dedicated to other infrastructure projects.
The following photos show the team installing the equipment at Alexandrina Road in early September.
to read more details of Station Infrastructure work

Diesel Electric Loco 958
This loco is used to back up our larger steam locos when they cannot be operated for various reasons, particularly when fire restrictions are in force.
It was taken into our workshops late last year to investigate a number of "strange noises" which quickly escalated into a significant repair task. The loco has therefore been unavailable just when we needed it to cover for 621. A lot of concentrated effort was required to deal intially with a camshaft problem and then with a worrying radiator fan vibration
The loco has been used on a number of recent trips to Strathalbyn and Victor Harbor whilst 621 was still not available and Peter Michalak's photo caught the loco on 13th July with our steel cars at Strathalbyn.


Busy Time at Victor on the 1st June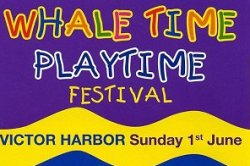 The first day of winter saw three separate train services operating in and out of Victor Harbor
Promoted as Whaletime Funtime the reopening of the Victor Whale Centre was accompanied by lots of childrens' activities in Warland Reserve, just across from our station. SteamRanger was involved by operating four special round trips to Pt Elliot using a RedHen railcar. At Pt Elliot the cars generally ran into the longtime disused goods siding and passengers alighted at the goods platform for a ten minute stopover.


The regular Cockle Train operated two return trips with Diesel Loco 507 and centenary cars, passing through Pt Elliot on the main line.


And to top all this off, Brill railcar 60 ran the second Southern Encounter of the year from Mt Barker to Victor and return.
It was particularly busy late in the day when trains hauled by Brill 60, RedHen 428 and DE507 departed back towards Goolwa at 20 minute intervals


Troy Barker's camera captured all three consists at VH.
If you are interested in the complexities of the movements CLICK HERE to read the Train Notice that was issued.



Certificates of Appreciation to Volunteers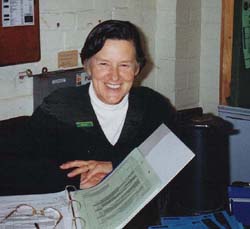 Several years ago SteamRanger introduced a series of awards to acknowledge contributions of volunteers over extended periods.
Certificates for 2008 were announced at the recent AGM and awarded to Kevin Aslin, Damien Brown, Laurie Durbidge, Ray Green, Oliver Lukins, Alan Milne, Ron Reid, Bruce Roper and Trevor Sachse.
Special Silver certificates recognising a more extensive contribution were awarded to Anthony Smith, Sue Smith and Mathew Job and Gold Certificates were awarded to John Dawson and Geof Pearson.
Our photo shows silver award recipient Sue Smith hard at work as the ticket officer at Victor Harbor.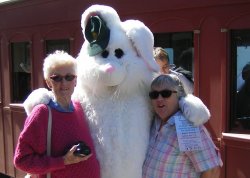 Welcome Ladies but watch the Bunny!
As well as the Easter Bunny visiting us at Goolwa Station at Easter, we were honoured to have a visit from two of our longest serving volunteers.
Our photo shows one of our earliest female station masters, Bette Smith (left) , who retired some years ago after filling quite a range of on-train and station based positions.
And with her, we welcomed back our indefatigable roster officer and "woman of all trades" Bev Sawyer, who is recovering from a significant stay in hospital but as you can see appears to be recovering well!






Phil gets another Brill thanks to Dr John!
Ever since Railcar 60's return to service it has been very popular with tourists and enthusiasts alike. It has proven to be very reliable and economic in its operation. For a long time now there has been the dream of a second powered Brill.
SteamRanger enthusiasts have been aware for some time that a possible source is Car 43, which worked the last passenger service out of Moonta on 26th April 1969 and was condemned just two months later. The car was purchased by long-time ARHS member and tour organiser Dr John Wilson who installed the car on a short length of track at his vineyard in the Clare Valley with the hope that a tourist rail service could be set up in the Valley, eventually to vanish when the Clare branch rails were lifted.
John has now agreed to very generously donate No. 43 to the ARHS, together with a cash donation to assist in its reloaction and initial restoration and has worked with SteamRanger's Phil Neville and Mark Batten to transfer the car to Goolwa for restoration. The Wilson Vineyard will become a long term major sponsor of the car. Is is expected that the car will move from Clare to Goolwa once road transport can be lined up some time in April
These photos show the interior and exterior of the car at John's winery


For more information of the Car, its history, plans for its restoration
and details on how YOU can help fund its return to service

Steam Train in Rundle Mall!
For three days from 11th April
SteamRanger joined with other heritage railway societies to stage a promotional display in Rundle Mall in the busiest part of Adelaide's CBD. A key feature of the promotion was NRM's Fowler cane loco Skipper, (pictured)
Pichi Richi Railway , the National Railway Museum, SteamRanger, Steamtown Peterborough, and Yorke Peninsula Rail were represented with separate promotional displays.
The promotion featured a launch hosted by media identity Keith Conlon (below left).
The SteamRanger stand featured a large poster of loco 621 and other posters advertising our services The timing of the display fitted in well with the school holiday running of the Cockle Train from the 13th April , and the commencement of steam running from Mt Barker to the south coast in late May.
SteamRanger's stand was manned by a roster of uniformed volunteers who answered questions on our services, handed out a package of information and encouraged passers-by to participate in a valuable prize draw for a trip on the Ghan to Darwin. Trevor Blight is pictured with members of the public completing their entries for the draw.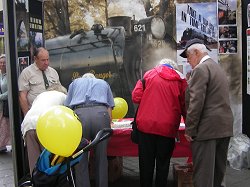 Marketing and Station Signage
After introducing a number of innovations during nearly two years as our Marketing Manager, Marshall Flanagan, left us in early March. His responsibilities will be temporarily taken over by the President and the Operations Committee.
Marshall put a lot of effort into introducing "value added" aspects to our services - Evening "Murder Mystery" trains, "BushRangers" on the Southern Encounter, Secret Seats on Cockle Trains and discount food vouchers at Victor Harbor
In association with John Draper he also developed an attention getting range of posters for our stations which promoted various services. Those below were snapped by our photographer on the walls at Victor and Goolwa.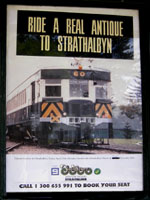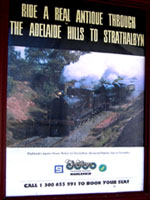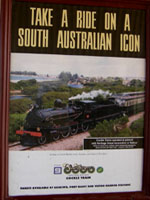 And in an attempt to enhance the "heritage" presentation of our stations, Infrastructure Manager, Troy Barker, has redesigned our train timetable posters to reflect the 1930's style used by the old South Australian Railways. His first efforts are shown below.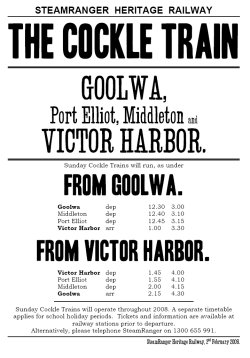 Easter and April School Holiday Running
Cockle Trains ran each of the 4 days of the Easter holidays with a mix of head end trains powered by diesel electric loco 507 and the "Brill" railcar. Three return trips were run each day with 507 with a special late afternoon round trip Goolwa-Victor-Goolwa added on the Friday, Saturday and Sunday. The number of passengers carried was 20% down on last Easter which fell during the April School Holidays but slightly higher than in 2006.
The lack of a steam loco may have had a small impact on the numbers, as may have been the very high temperatures in Adelaide earlier in March and a string of competing events in the month generally.
A feature of the trains on Easter Sunday was an appearance of the Easter Bunny who travelled on each train from Goolwa, flaunting an enlarged railway ticket, and handing out chocolate Easter Eggs to passengers young and old. Thanks Don Snow for your efforts!




Tour Down Under special to Strathalbyn
A feature of South Australia's January holiday period is the running of the Tour Down Under grand prix cycle race over various day long stages around Adelaide. On the 25th January the stage operated through Strathalbyn and SteamRanger operated a special "StrathLink" service from Goolwa in conjunction with Alexandrina Council.
The train, featuring Brill railcar RC60 arrived in Strath at around 12.30pm in good time to see the main event riders arrive and passengers were able to take part in the associated festivities before leaving on return to Goolwa and Victor at around 3.30pm. Kids on the train were treated to a show bag of locally produced goodies organised by the Council. A great time was had by all!
Our photo shows the appropriately decorated railcar arriving in Strathalbyn.
Station Infrastructure
Victor Harbor Rail Precinct
The Victor Harbor Council has announced that it will now let a $100,000 tender to progress planning associated with the Railway Precinct redevelopment project which includes SteamRanger's station. The project includes relocation of SteamRanger's turntable to a site adjacent to the Whale Centre building which will then allow Council to redevelop the existing turntable site. Relevant pages from the Council's Town Centre Master Plan can be viewed
.
At Victor Harbor Station

Resources negotiated through the "Work for the Dole" scheme have been employed since mid 2007 to substantially upgrade the station building.
The initial six months of the project have resulted in repainting of the entrance breezewaythe station master's office , conversion of the luggage room to a SteamRanger souvenir and Refreshment Shop, re-pointing of decaying exterior brickwork, priming and painting of veranda guttering and external woodwork, repainting of platform seats and renovation of the ladies toilet and ladies waiting room. The old ladies waiting room has been modified with the intention of using much of this area as a themed display area. The traditional ticket selling hatchway in the entrance breezeway has been reinstated.
The renovation work allowed the shop and new ticket selling arrangements to operate for the summer Cockle Train services as recorded by our photographer below.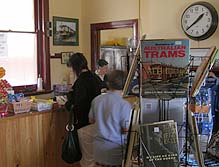 Two views of the new shop area with volunteer Sue Smith in charge
The newly repainted breezeway looking towards the platform
with the new ticket selling point on the left
Val Green on the other side of the window, all ready to issue tickets
At Goolwa Station

Most of the platform area has been fully picket fenced under a similar Work for the Dole scheme . The back wall to the platform at the arts and crafts end was in poor condition and has been rebuilt in a similar way to the Victor Harbor end. Work is now being undertaken on providing a gate in the fence adjacent to the station building, primarily for vehicle access.
Further to this work, we have been successful in securing a second round of funding to enable works to continue into next year at this station. This work will primarily involve constructing some yard fencing and some landscaping
Other projects at the station include installation of a train order signal rescued from Rosewater, rebuilding of the old platform freight shed and resurfacing of some sections of the platform surface.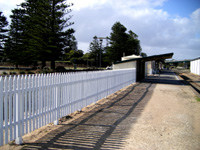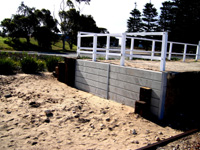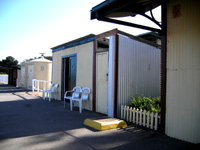 Picket fence at VH end New platform end Rebuilding freight shed



At Mt Barker Station



A major redevelopment of the area adjacent to the station will see the building of a significant Park and Ride and Bus Depot. Although not actually involved SteamRanger is assisting the contractors by providing office space in the station building during the construction phase

Features of the development will be:
An administrative building for the bus operator
185 car parking spaces
Bus platforms, passenger drop off area, taxi area and bicycle parking and storage
A bus depot with parking for for up to 30 buses
Fuel storage facilities
Bus washing facilities