People - our greatest asset!
The workhop activities described in this album are only possible through the dedicated contributions of
our small team of employees and our invaluable volunteers.

Here are just a few, in no particular order, captured in their work environment.
Others are featured on our loco restoration pages



Roy Stanley on his Colchester Lathe
Kate Kobylas - carriage door sill painting (Sept 98)
Denis Richardson - underneath Car 82 (Sept 98)
A railway fitter of the future? Young Ryan Willams with Dad Ron and Ian Johnston (Sept 98)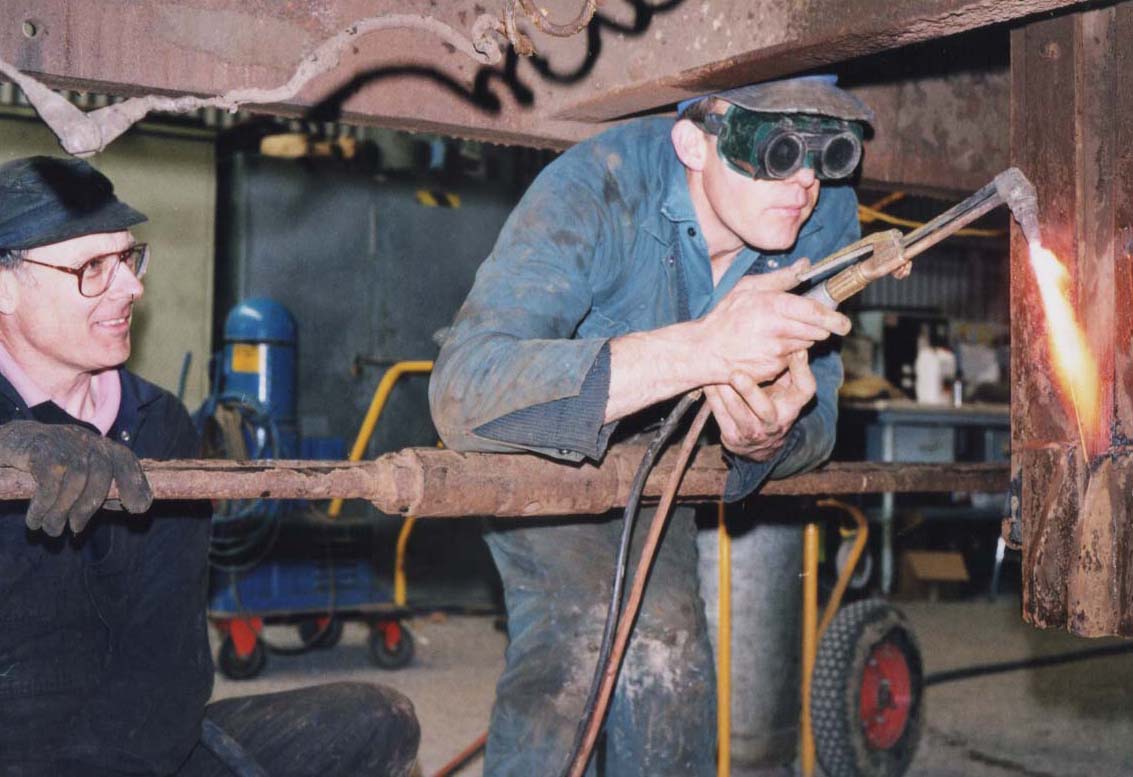 Andrew Gramp and Peter Brown demolishing Car 82 battery boxes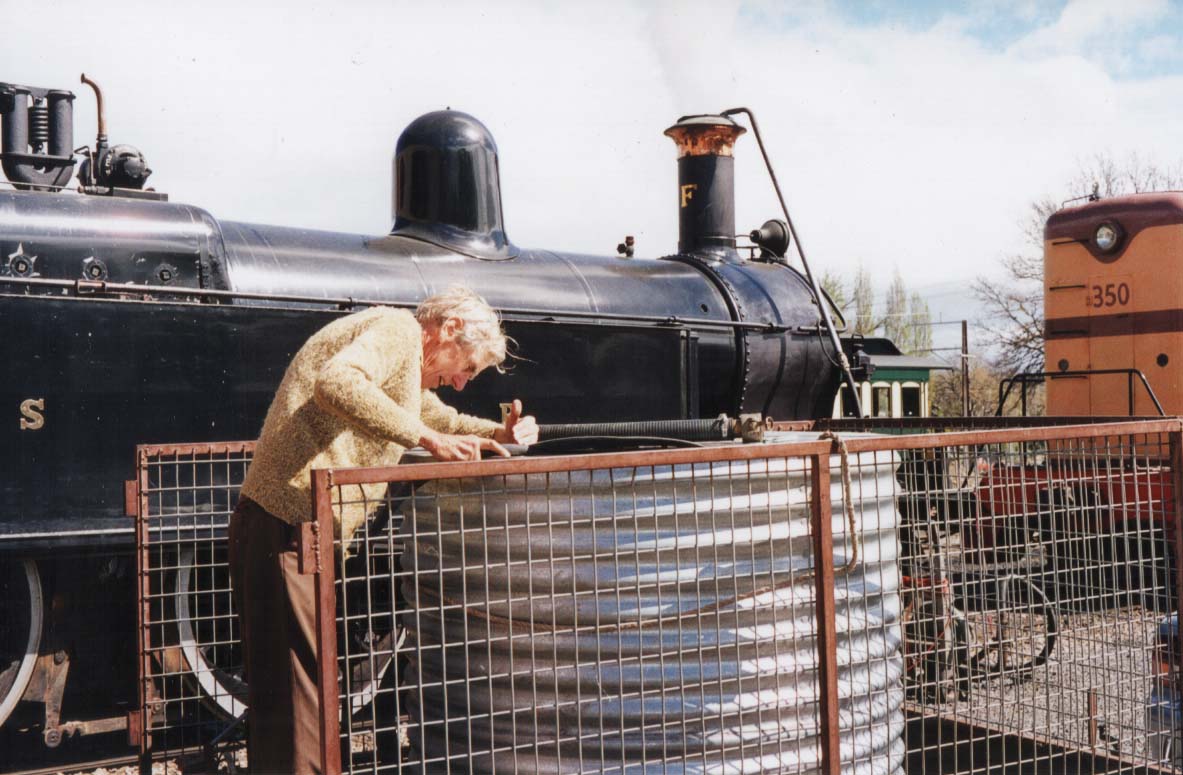 Ralph Lee, a stalwart Past president fills his trusty mobile water tank before heading off to Gemmells to top up a "Highlander" loco. (Sept 98)
Roger Currie, fireman and lubrication guru, grinding irregularities off F251's wheel flange (Sept 99)
Andrew Gramp (again) this time showing how Superman moves locos with effortless ease (Sept 98)
Andrew Dale and Jack Gerrard - loco cleaners par excellence, touching up F251's drivers
Brenton Job wrestles with the coal grab bucket (Sept 98)
Ross Vonow showing his carpentry skills in the restoration of CEntenary car 60 (Oct 98)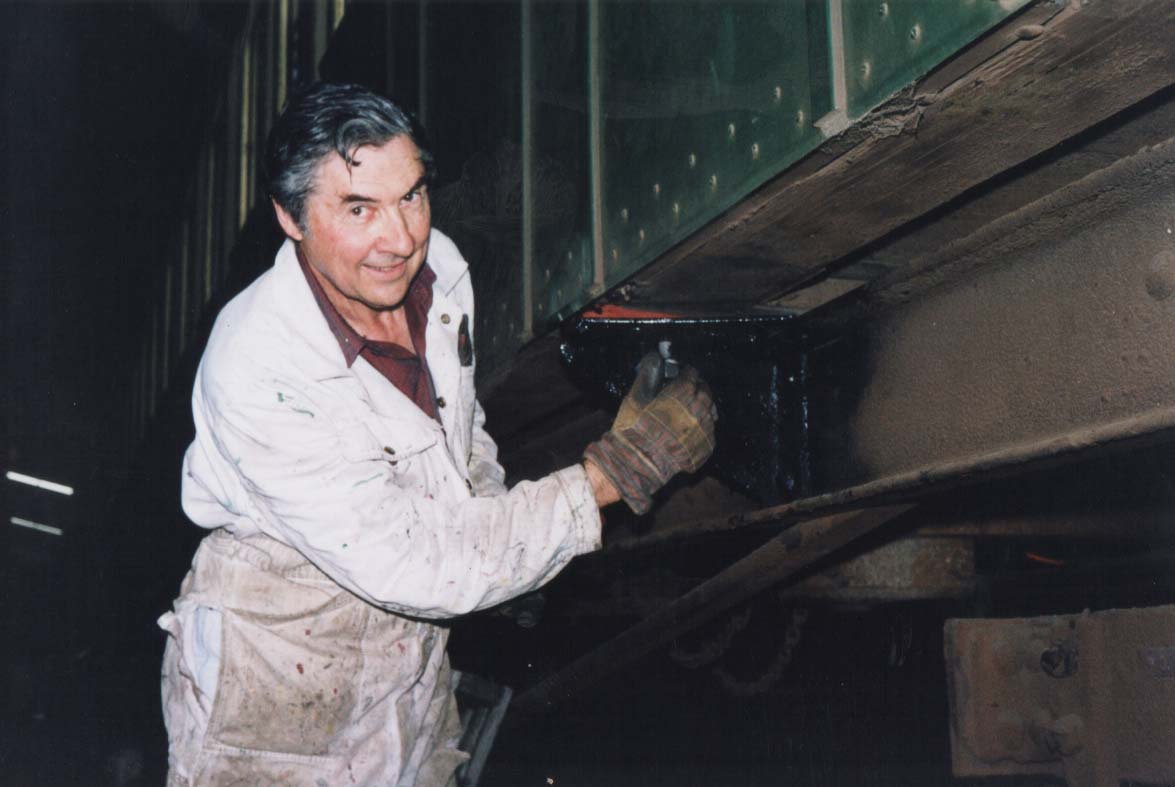 Brian Carter also at work on Car 60
Doug Gibson carrying out modifications to the MIG welder trolley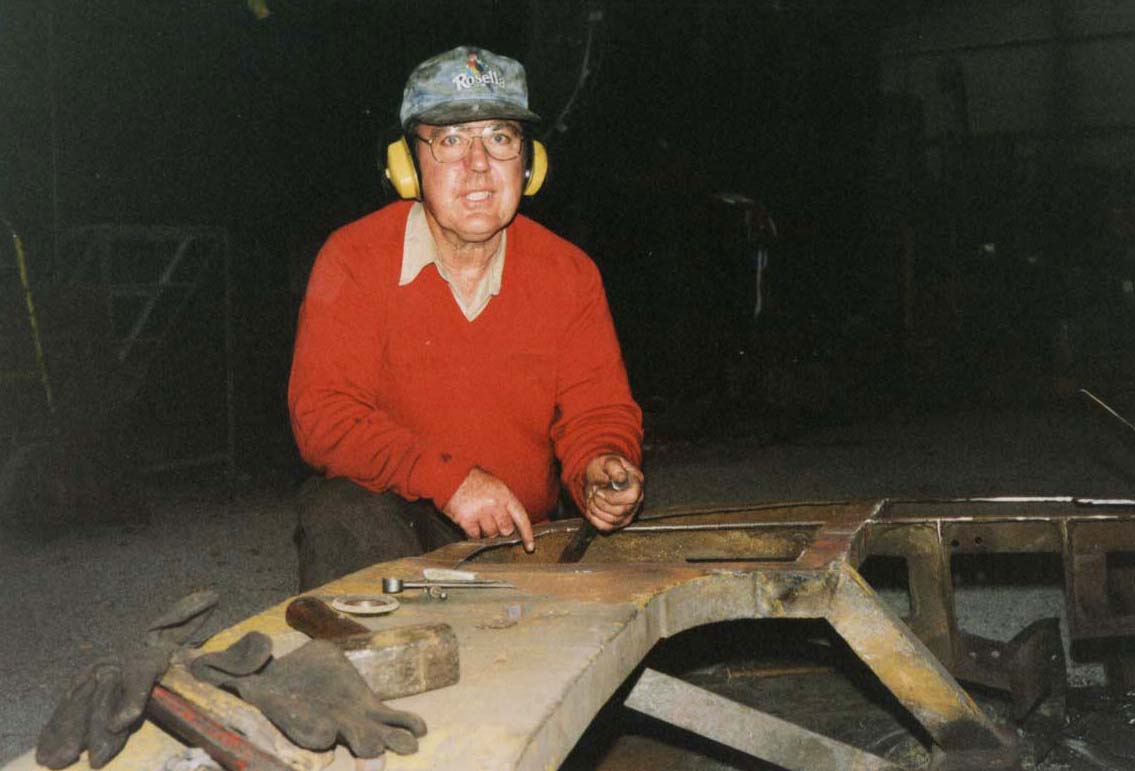 Trevor Clift carrying out repairs to RedHen 428's cow cathcher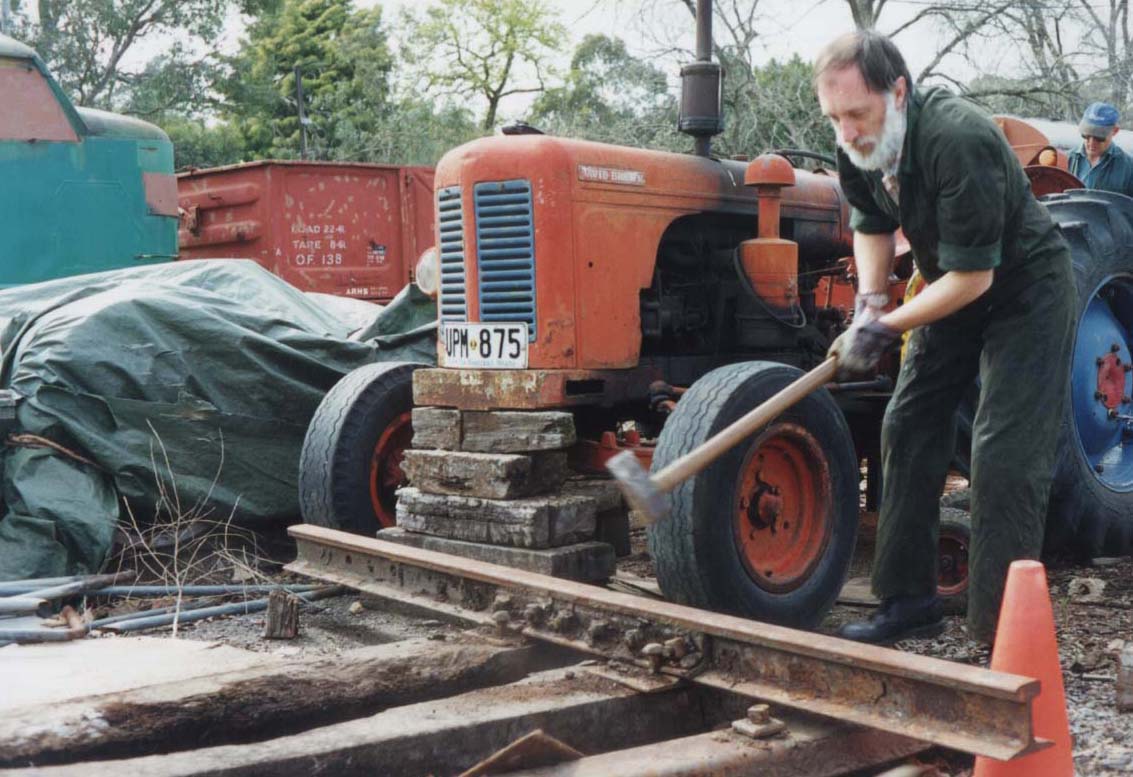 Kim Critchley cutting up the essential loco lightup wood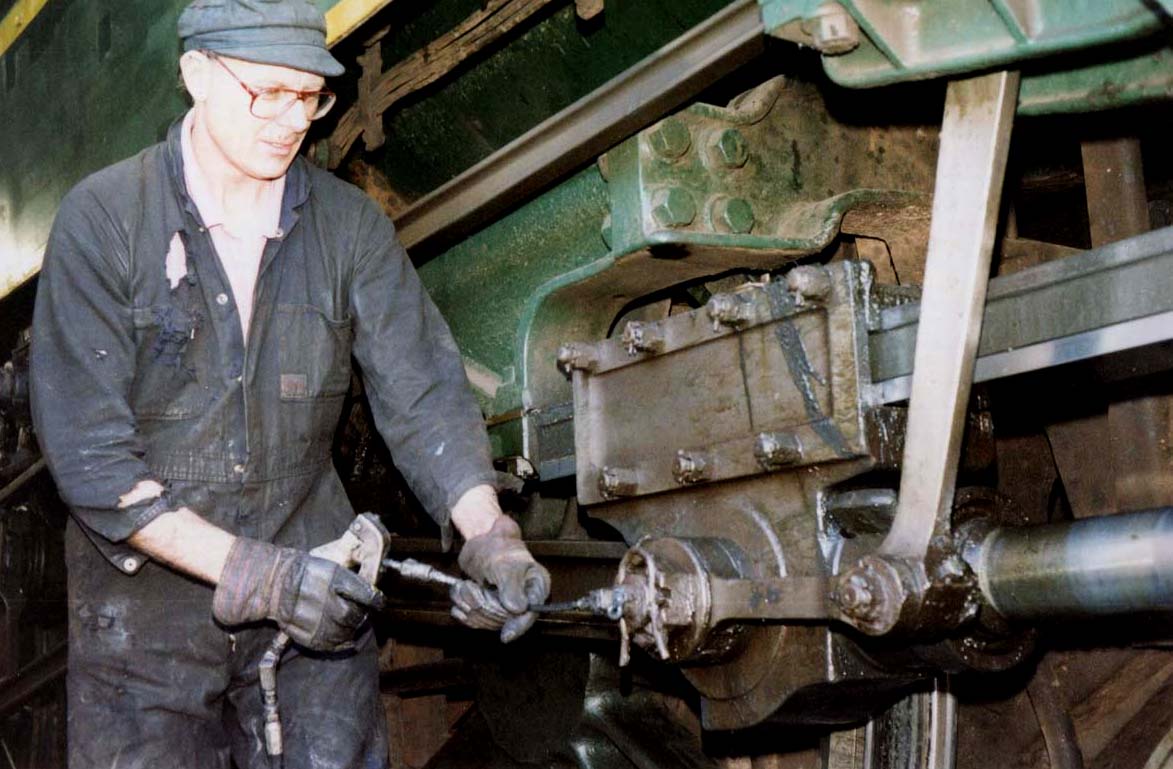 Andrew Gramp - grease into loco 520 (Oct 98)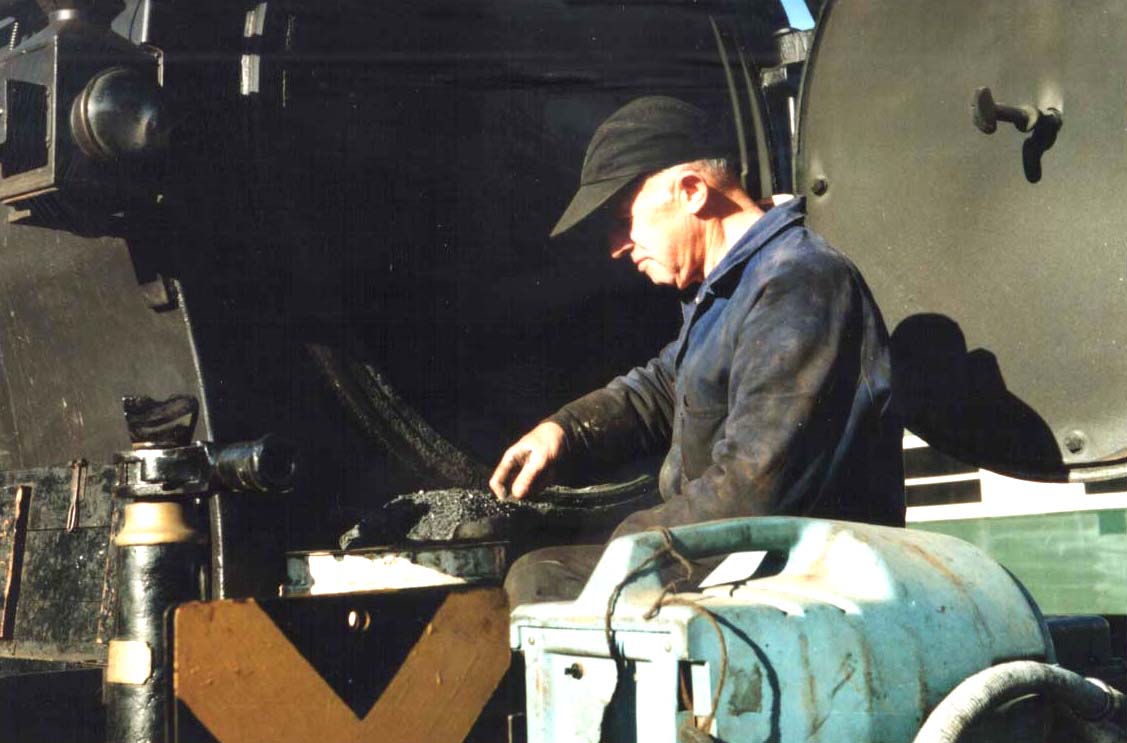 Dean Smith cleans out F251's firebox (June 99)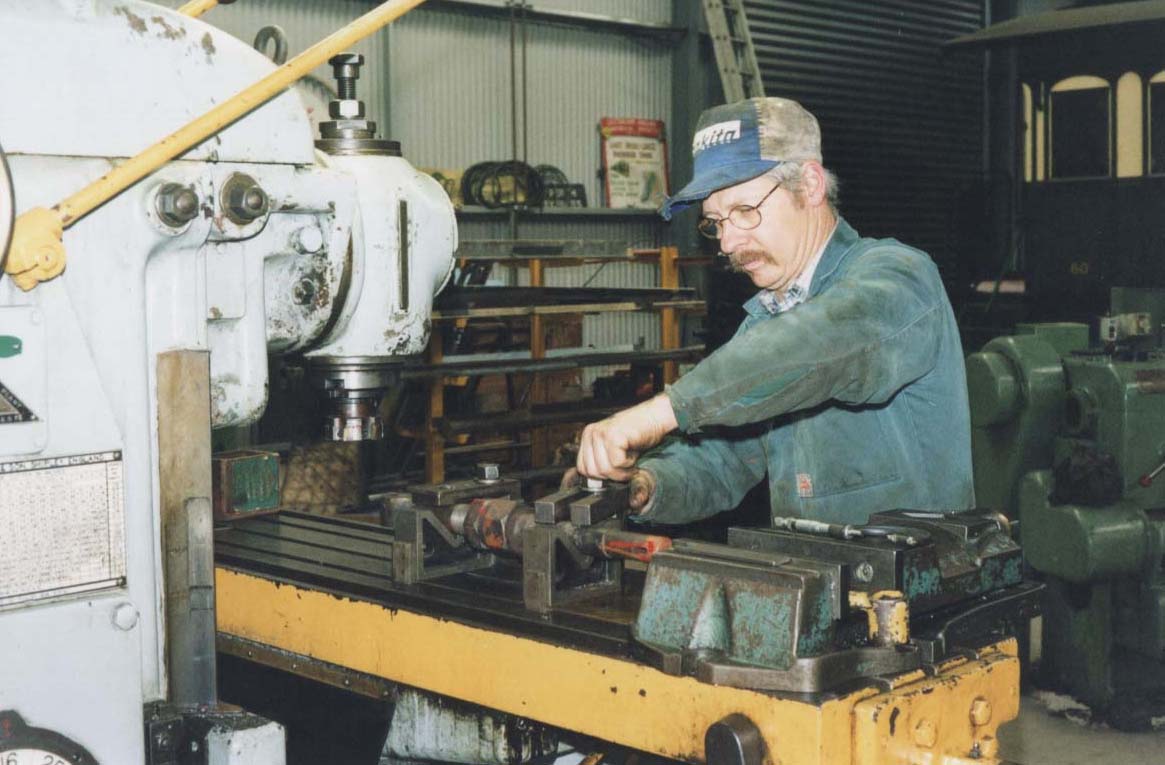 Daryl Simon milling away at Mt Barker
Paddy Mulady working on Rx207's drivers (Dec 98)
Fred Valstar - new doors for CEntenary cars (Oct 99)
Firewood sleeper collection from Ridgeway (Nov 98) - Pete Charlson and Pat Francis
Pete Charlson - Chair of the Board of Management and a multi talented hands-on worker!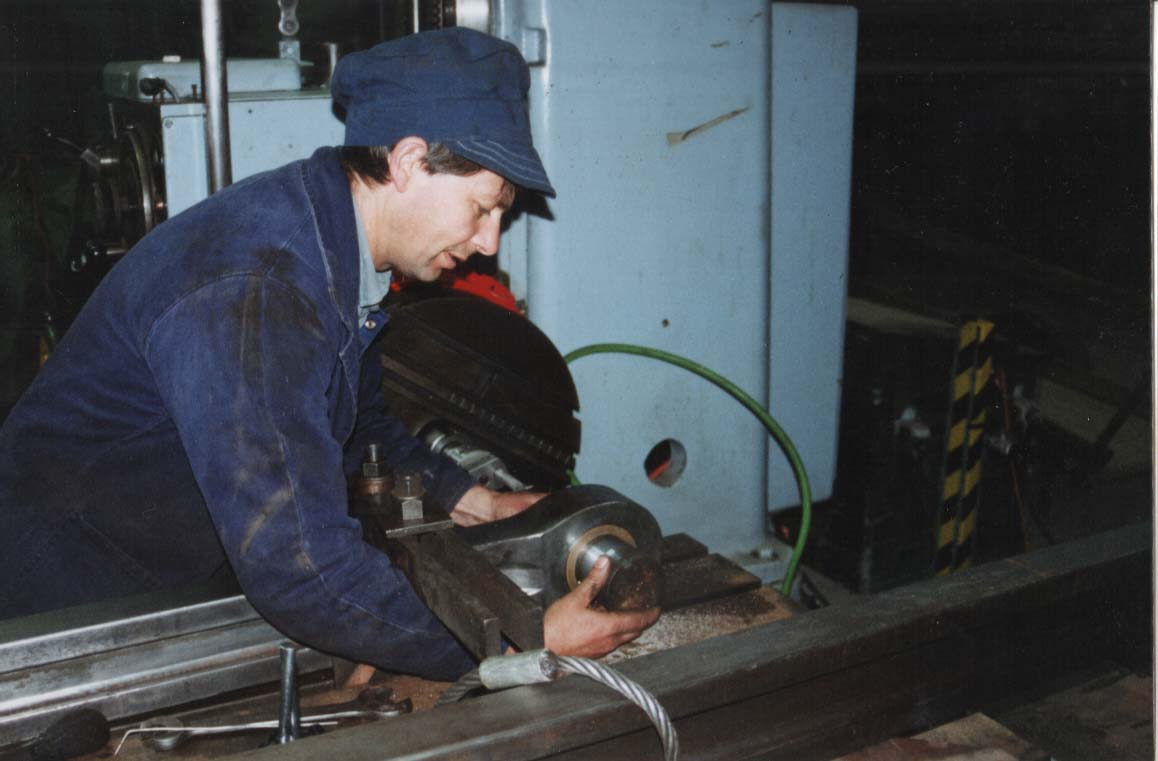 Ron Williams (our full-time fitter at Mt Barker) machining 520's conrod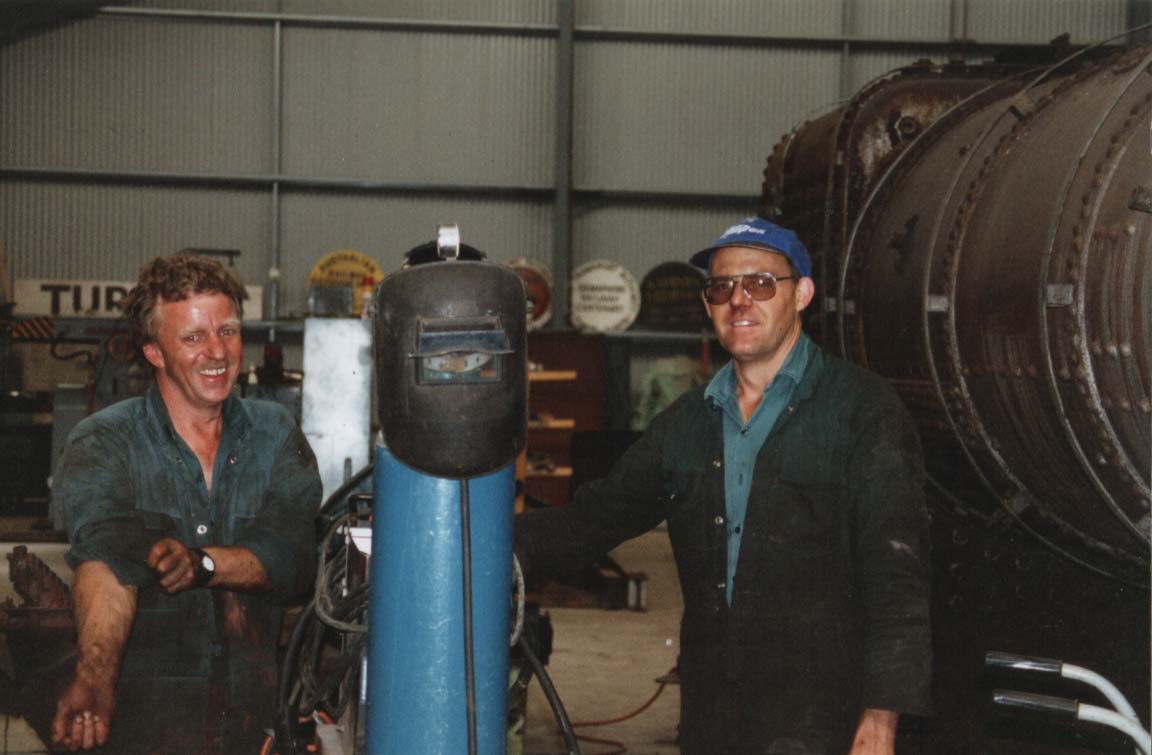 A mystery volunteer welder (centre) with colleagues Brenton Job and Peter Brown
Trevor Williams - rubbing down F251's frame ready for painting
Barry Edwards needle gunning a Ruston and Hornsby boiler being repaired under contract by SteamRanger
Eddie Howes servicing DE 350's brake cylinder (June 99)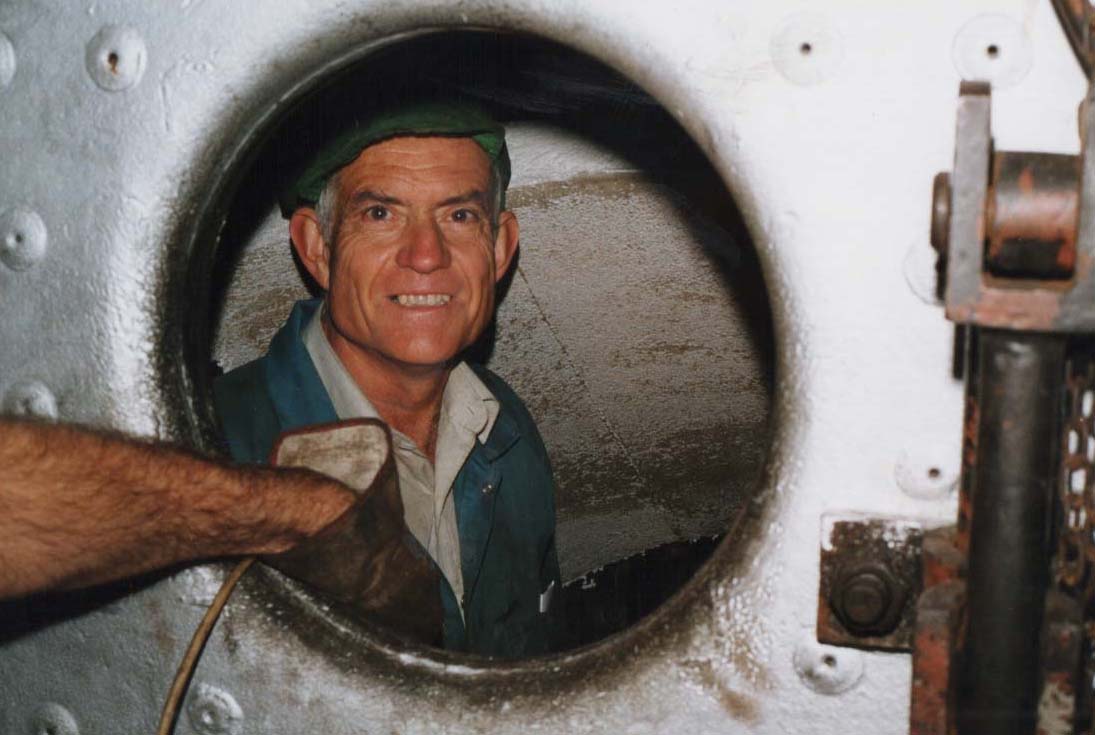 and the "boss" - Loco Manager imprisioned in F251's firebox - the best place for him!
An off-the-payroll volunteer - Bob Hughes and Ralph Lee providing some sustenance for our visiting "maggie"
Sometime rolling stock manager Ben Greeneklee catching up on his paperwork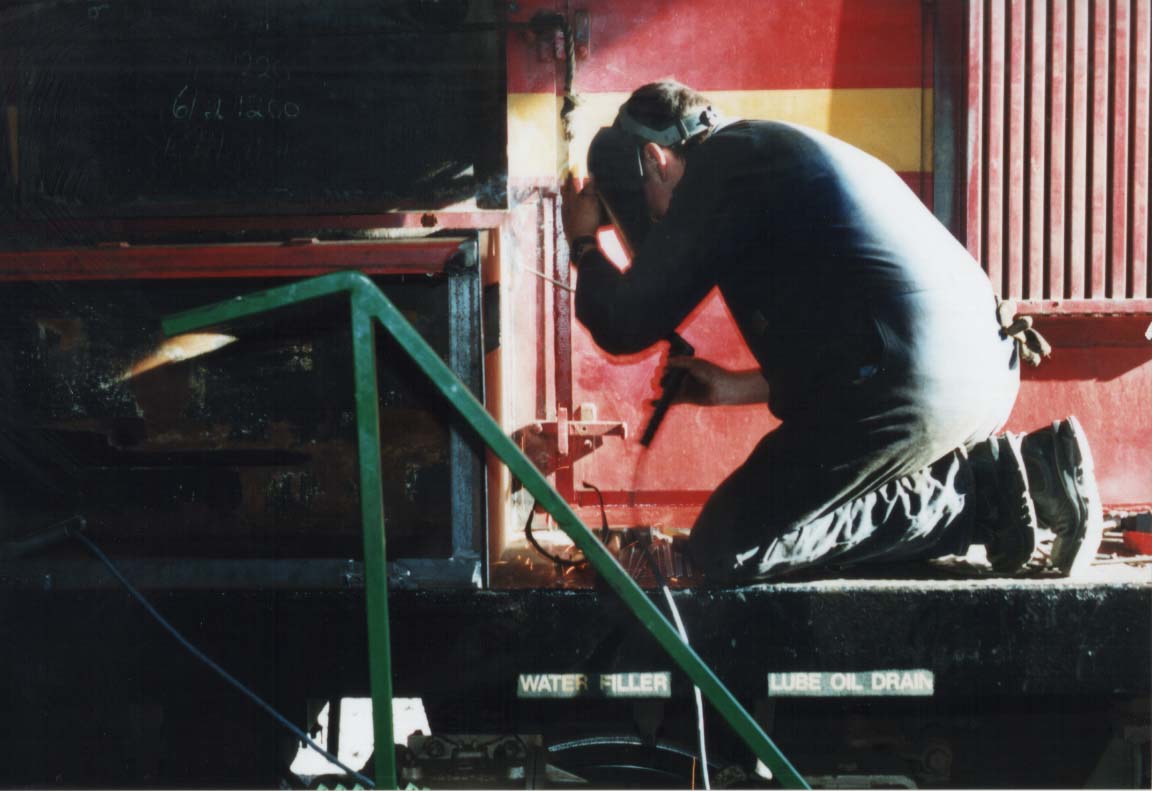 Bob Hughes preparing DE 507 for repainting (July 99)
.... and Jason Sipos on the 507 job too
......whilst Peter Kither works on the battery boxes
Rex Hoppo admiring his paint work on DE507
Doug McKenzie and Peter Kither
Richard Wilkins - just one of a valuable team of carriage cleaners (Feb 2000)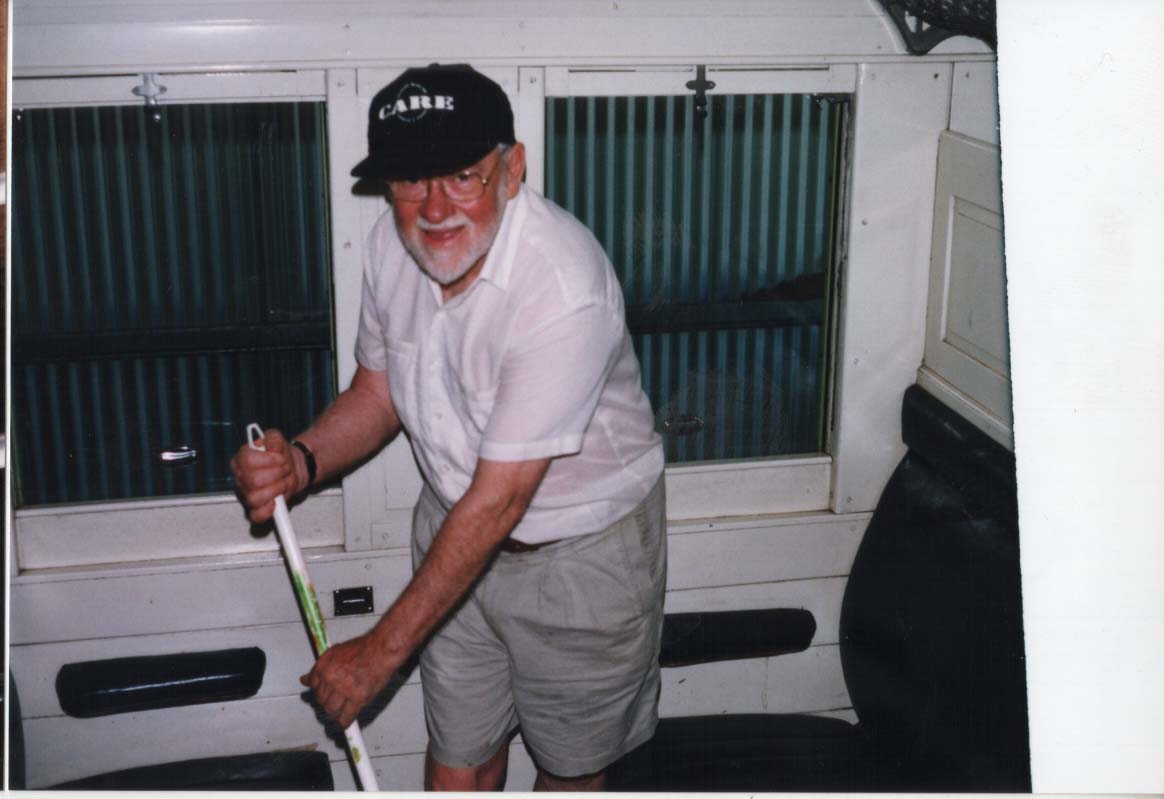 .... and David Goscombe too
Quitea carriage cleaning team! - Steve Batty, Denis Richardson, Chris Danby, Paul and Ben Greeneklee
Alan Dale polishing up F251's motion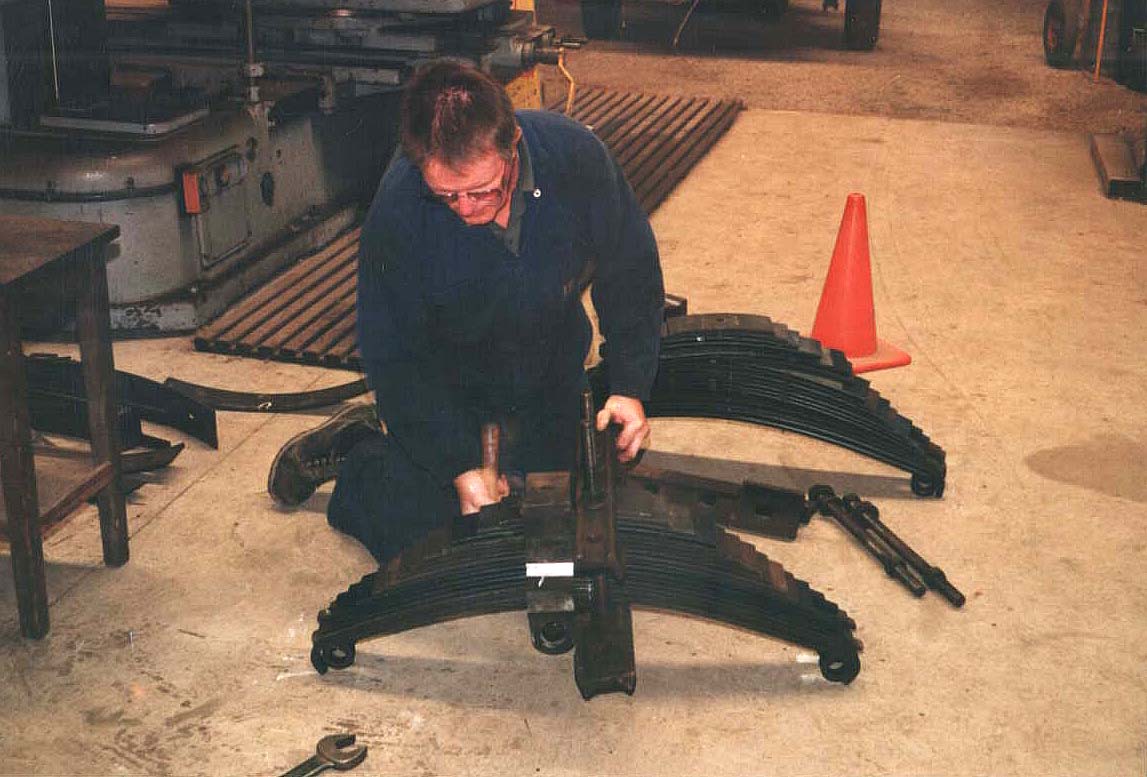 John Davidson - reassembling Rx207's main springs
Geoff Hancock - reaming Rx207's release cock (May 2001)
Pam Cameron - Sanding the end of car 73 in preparation for painting
and the team pauses for lunch at Mt Barker one sunny Saturday